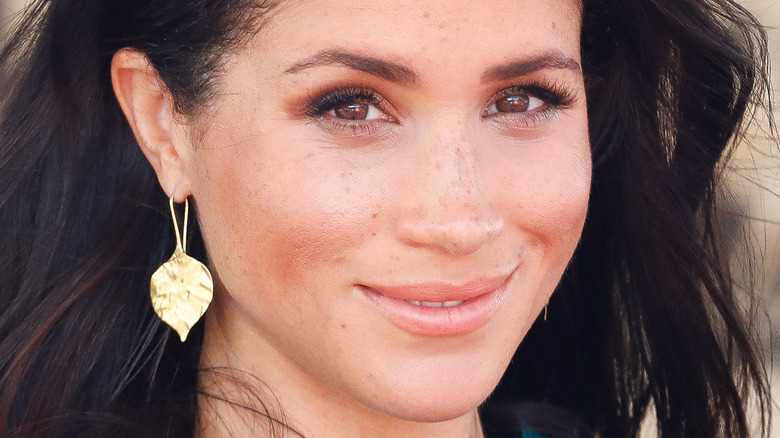 In honor of her 40th birthday, Meghan Markle teamed up with Melissa McCarthy for a hilarious video that helped introduce the world to the Duchess of Sussex's latest philanthropic effort; the 40x40 initiative. Meghan shared the video on the Archewell website on August 4, and an article about the initiative was also uploaded. As part of the initiative, Meghan revealed that she asked 40 of her friends to join her new project, which aims to help women rejoin the workforce after the coronavirus pandemic left millions without work over the past year.
"Because I'm turning 40, I'm asking 40 friends to donate 40 minutes of their time to help mentor a woman who is mobilizing back into the workforce. Over two million women in the U.S. alone, and tens of millions around the world have lost their jobs due to COVID. And I think if we all do it, and all commit 40 minutes to some sort of act of service, we can create a ripple effect," Meghan told Melissa in the video.
And while most people were focused on what Meghan and Melissa had to say, others took some time to look around the room in which Meghan was filming — presumably her office — as it offered a sort of sneak peek inside of her home in Montecito, according to The Sun. And, of course, there were some things in plain sight — or not — that you may have missed while watching. Keep reading to find out more.
Prince Harry made a cameo in Meghan Markle's 40x40 video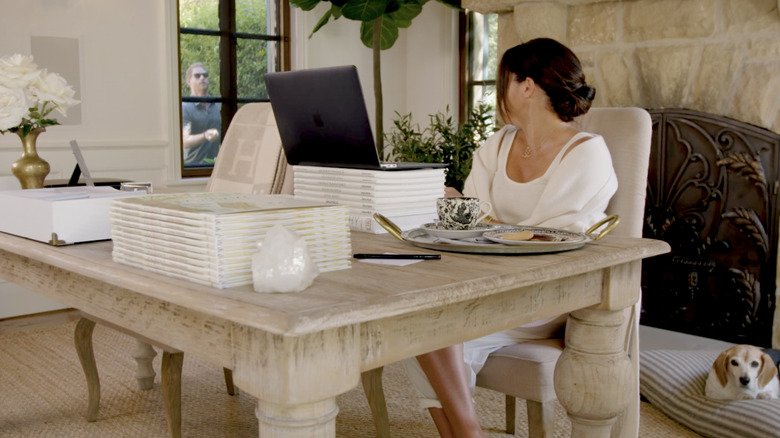 Yep, you read that right! Prince Harry made a surprise, unplanned appearance in Meghan Markle's 40x40 video — but it wasn't until the short blooper reel that played at the end. After Meghan explained her 40x40 idea to Melissa McCarthy, she blew out a candle on a cake, and the video cut to footage that didn't quite make the cut. While Melissa is busy keeping Meghan laughing right up until the very end, Harry ends up giving them both quite the chuckle! As Melissa suggests to Meghan that they have "an afternoon tea" with the duchess' chickens, an idea that Meghan isn't too fond of, Harry can be seen in the window to Meghan's right. Wearing a gray collared shirt and sunglasses, the Duke of Sussex appears to be juggling — and he quickly gets the attention of Melissa who can't keep herself from laughing.
Whoever else was in the room at the time also starts laughing, and must have gestured for Meghan to look out the window. When she did, she saw her husband — still juggling — and she began to laugh. She turned back to the computer, and said, "what?!" still laughing.
The video then cuts out, effectively ending all of the fun. Thankfully, however, you can still rewatch it!
The first photo of Lilibet Diana is in Meghan Markle's new video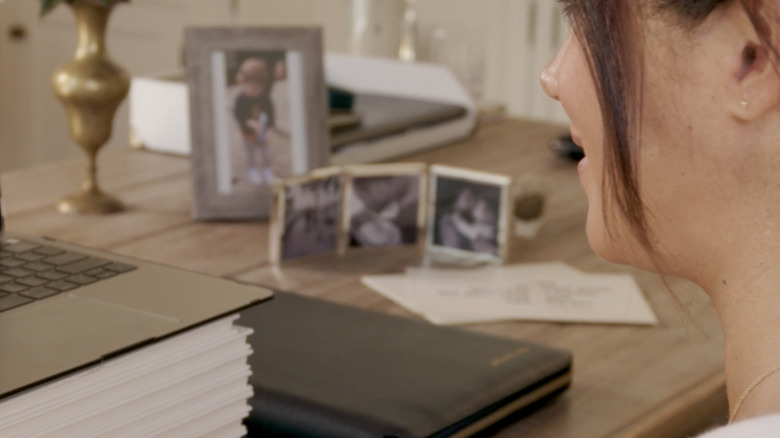 At the very beginning of Meghan Markle's 40x40 initiative video, she is seen sitting at a desk and getting her computer prepped for her video chat with Melissa McCarthy. In those first few seconds, viewers are able to see how Meghan has her desk decorated. Perhaps unsurprisingly, the Duchess of Sussex has a few family photos close by. In one larger frame toward the back, there appears to be a snap of Archie. In front of that is a three-photo-frame that appears to feature some special memories frozen in time. The first picture, on the left, looks like it may have been taken during Meghan and Prince Harry's pregnancy announcement as trees can be made out. The photo on the far right looks like Meghan holding Archie. And the middle photo, well, that's the one causing quite a stir. It's a photo of Harry kissing a newborn baby — and Page Six has confirmed that the baby in the photo is, in fact, Lilibet Diana!
"The center photo shows Harry gently kissing Lili, who has not been seen since her birth at Santa Barbara Cottage Hospital in June," Page Six reports. Meghan and Harry have yet to release a photo of their newborn daughter, so this is as good as it gets... for now!
Meghan Markle wore special necklaces in honor of her kids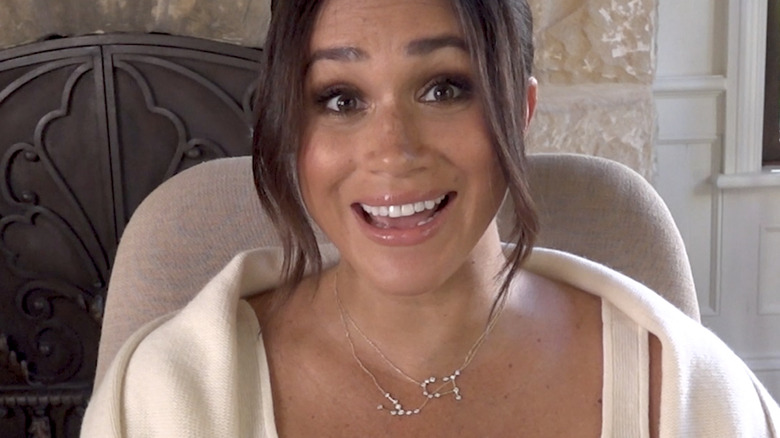 In watching the 40x40 video, you may have been wondering about Meghan Markle's jewelry. While she kept her overall look very simple — a white tank top, with a white pair of capri pants, a white shawl, and a pair of nude pumps — she adorned her neck with two pieces of jewelry — and they really stood out. According to Page Six, the two necklaces were created by Logan Hollowell — and they were tributes to Meghan's two children, Archie and Lilibet Diana. Meghan wore the Taurus Constellation Necklace, which in honor of Archie's astrological sign, and the Gemini Constellation Necklace as a nod to Lili's, Page Six reported. The outlet also confirmed that the special jewels cost upwards of $1,600 a piece!
"The LA jeweler uses recycled gold and ethically sourced gemstones in her work, making her delicate pieces an ideal pick for the sustainability-focused duchess," Page Six reported. Of course, this isn't the first time that Meghan has worn a piece of jewelry in honor of a beloved family member, but these appear to be incredibly special — and we absolutely adore them!
Meghan Markle's children's book was on display -- sort of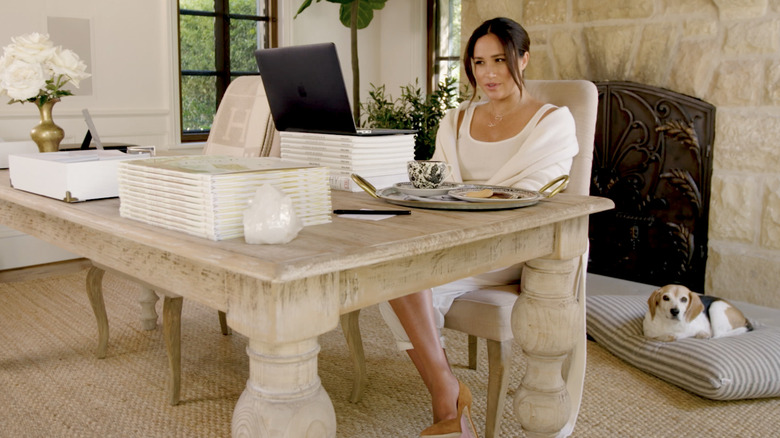 Meghan Markle's super chic office seemed to have everything in its place — but there were also some interesting things that you may have missed while watching the 40x40 video. For starters, there is a stack of books toward the front of Meghan's desk — but they aren't just any old books; they appear to be copies of "The Bench," the children's book that the Duchess of Sussex authored. The book was released back on June 8.
Taking a look around, there is also a blanket on the chair next to Meghan that features the letter "H," so we can only assume that Harry forgot to put his blankie away! And, last but certainly not least, you may notice a pup relaxing on a pillow-style dog bed right behind the duchess. That would be Meghan and Harry's beagle named Guy. The four legged doggo could be seen throughout the video, even taking a snooze at one point!