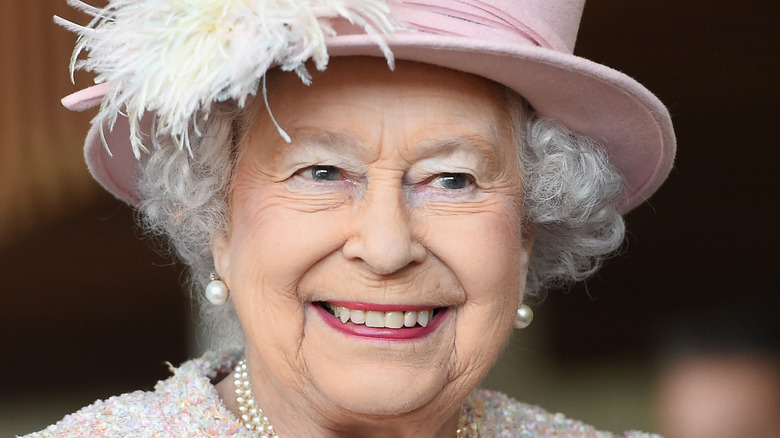 Queen Elizabeth II and Angelina Jolie are both powerful and well-respected women, who apparently also happen to really like each other. What may be even more surprising is that the two are also related! SCMP.com reports that Jolie is the queen's 26th cousin through her mother, Marcheline Bertrand, whose family dates back to the 12th century French King Philip II.
Outside of being distant cousins, Jolie caught the queen's attention not only for her acting but for her humanitarian work. In particular, Jolie contributed to the British foreign policy to end sexual violence in conflict zones. The royal was so impressed with the "Maleficent" star that in 2014 she made Jolie the first American woman to become a Dame. While technically only British citizens can have the honor, Jolie can use the initials DCMG after her name, according to Marie Claire. "To receive an honor related to foreign policy means a great deal to me, as it is what I wish to dedicate my working life to," Jolie said of the award.
Jolie got to visit Buckingham Palace with her children and her now ex-husband Brad Pitt to meet with the queen, but the two shared the special moment alone. A palace spokesperson explained to Marie Claire, "The audience itself between Ms Jolie and the Queen was private. Her Majesty presented her with the insignia in its box. Mr Pitt and the rest of the family were introduced to the Queen afterwards, however." It appears that Jolie and Queen Elizabeth's admiration for each other didn't stop there.
Queen Elizabeth and Angelina Jolie share a passion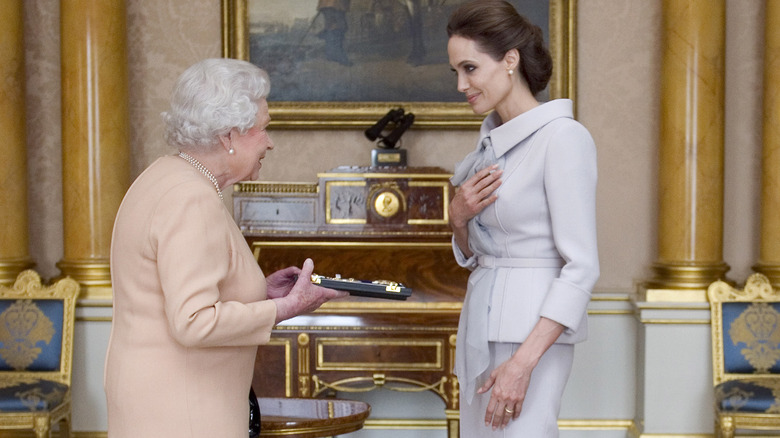 Queen Elizabeth II and Angelina Jolie appear to have a special bond, thanks in part to their shared passion for conservation. Both were part of the documentary "The Queen's Green Planet" about forest conservation efforts in Africa. The "Mr. & Mrs. Smith" star revealed what the queen has taught her six children. She said (via W Magazine), "For us to come here and say to the children, 'This is why it's important to plant a tree,' that's the biggest message I can teach my kids, and it's something that they've certainly learned from Her Majesty and her message."
Jolie also addressed how she explained to her kids why planting trees in Africa is important to her royal friend, whom she described as a "lovely lady." She divulged, "You say to the kids, 'You know really, you don't know her, you can't understand all that it means to be a queen and all that.'" She continued, "You try to say, 'You know she's just this really lovely lady who really cares about people around the world, and she really cares about the future, and she wants your grandkids and her grandkids to be able to be running around, enjoying nature and other cultures, and the importance of other cultures." Jolie pointed out their connection, adding, "She thinks that really matters and I agree with her."
It's clear both women want to make the world a better place and hopefully will continue to do so with their special friendship.