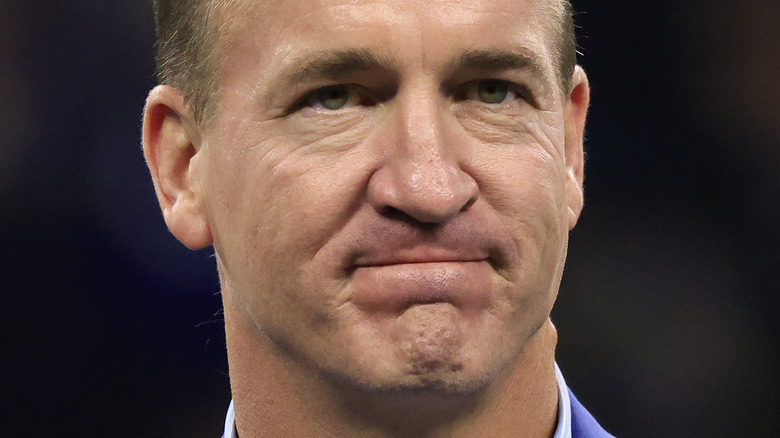 Retired football player Peyton Manning is reminiscing on his days in the NFL, and he just told one story about Bill Belichick that has fans calling the legendary football coach a "savage."
Although the two men were staunch enemies while Manning played quarterback several times against Belichick's New England Patriots, there seems to be a mutual respect between the two men. In 2014, Manning remarked to NBC Sports that Belichick "[will] go down as the greatest NFL coach of all time." After Manning retired from the NFL in 2016, Belichick expressed the highest regard for his foe's incredible football acumen. "For 18 years, we battled fiercely," Belichick told to ESPN. "I can honestly say that I never 'enjoyed' our meetings, but the respect I have for Peyton Manning as a competitor was, and will likely remain, second to none."
Now, Manning is recounting the story of how Belichick used his power as head coach to try to get close to "Baywatch" star Pamela Anderson.
Bill Belichick drafted Pamela Anderson's boyfriend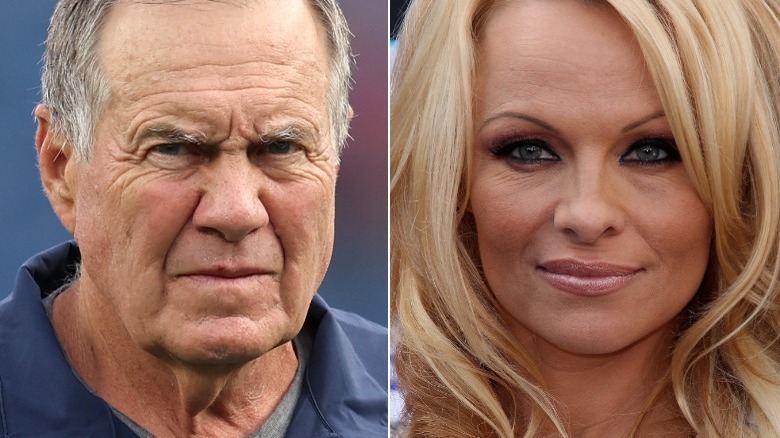 On December 12's episode of the "Manningcast," host Peyton Manning explained how Bill Belichick drafted a player partly because he was in a relationship with Pamela Anderson. When Belichick was chosen to serve as head coach for the AFC at the 2007 Pro Bowl, he selected San Diego Chargers player David Binn to be the long snapper. At the time, Binn was dating the bombshell "Barb Wire" actor. "Bill thought the players would like seeing Pamela at the pool in Hawaii," Manning recounted. "She didn't come. But that's a cool Belichick story!"
Binn himself recalled earlier this year on the "Pro Football Doc" podcast how he learned during their first practice that there was an expectation behind the draft decision. "I'm walking by Bill, and he looks at me and he's like ... 'Hey, where's your girlfriend?'" Binn detailed. "I said, 'Oh, Pam? She didn't come out.' He goes, 'Remind me why the f*** I invited you out here then?'" The Chargers player said Belichick gave him a "deadpan look," and he couldn't tell if the comment was a joke or not.
While Manning and Binn look back at the story and laugh, some football fans online raised their eyebrows at Belicheck's decision making. "Am I the only one who finds this story less charming and more cringe? 'Why don't you bring your girlfriend so a hundred guys can openly leer at her in a bikini,'" one user wrote on Twitter.