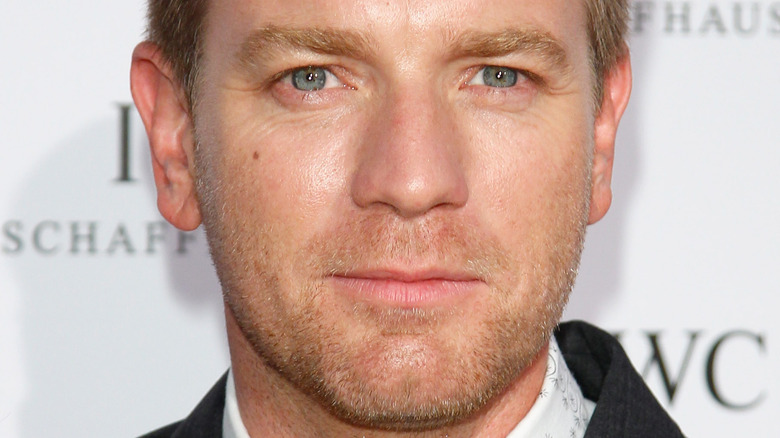 This article references heroin addiction.
Ewan McGregor is truly a versatile actor. From the Scottish cult classic, "Trainspotting," and the blockbuster musical, "Moulin Rouge!" to the iconic "Star Wars" franchise, it seems he can do it all. Having maintained a steady, successful career since his '90s ascent to fame, the actor has delivered many acclaimed performances on the big and small screen and within a variety of genres.
Given his fame and success across several decades, it'd be easy to imagine McGregor entering his diva stage of stardom. And yet, in interviews, he appears to be the most affable, charming, normal guy in the world. Maybe it's the Scottish accent or his self-deprecating stories, but the actor just seems so chill. Of course, his life has not been without drama. In 2018, his very public divorce made headlines and caused strife within his family.
Still, McGregor remains a likable and strangely down-to-earth celebrity. Whether he's turning out incredible performances or riding his motorcycle through the Siberian landscape, the father of five continues to flourish, and as of this writing, he's certainly shown no signs of slowing down any time soon. Here's a look at Ewan McGregor's life and career through the years.
How he got cast in Trainspotting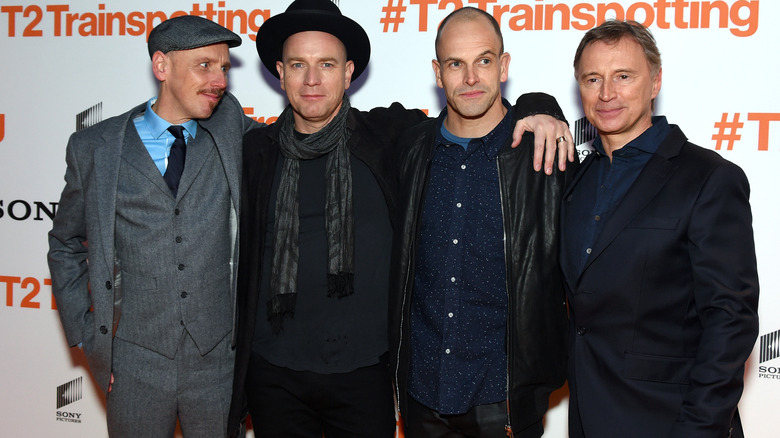 Although he had already appeared in several films and TV series in the U.K., Ewan McGregor's breakout role was in 1996's "Trainspotting." Right away, the actor knew that he was meant to play the part of Mark Renton in the adaptation of Irvine Welsh's novel. "The idea of not getting to play that part, the idea of someone else getting to play that part, was too much to bear," McGregor told British GQ. The only problem was that he was in great physical shape and it was difficult to picture him as an underweight slouch with a heroin addiction. But McGregor was committed to securing the role — he stopped consuming beer and dairy products and subsequently lost 26 lbs. The writers, producer, and director, Danny Boyle, were impressed, and the part was his.
McGregor also did a fair amount of research to get into character for the role. While filming a different movie in Luxemburg, he spent time outside a local train station where people would gather and use heroin, taking note of their body language prior to and after administering the drug. He also read "Iced" by actor, Ray Shell, which focused on a character's experiences with drug addiction. "It was really useful to me into the sort of mindset of somebody that doesn't want to be taking drugs but can't stop," he noted to British GQ. McGregor's efforts paid off, as "Trainspotting" was both critically acclaimed and loved by audiences.
If you or anyone you know needs help with addiction issues, help is available. Visit the Substance Abuse and Mental Health Services Administration website or contact SAMHSA's National Helpline at 1-800-662-HELP (4357).
The role Ewan McGregor lost to Leonardo DiCaprio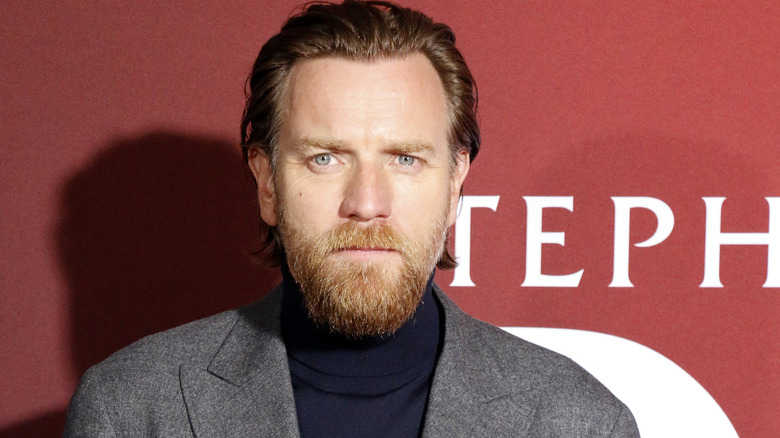 "Trainspotting" was not the first or the last time Ewan McGregor worked with the director, Danny Boyle. In 1994, there was "Shallow Grave," and three years later came "A Life Less Ordinary," co-starring Cameron Diaz. There may have been collaborations, but the actor and the director had a falling out in 2000. McGregor was meant to star in Boyle's film "The Beach," but the role ultimately went to Leonardo DiCaprio. "I was in the first three movies, and then I wasn't in the fourth and ... it made me a bit rudderless," McGregor explained on "The Graham Norton Show."
It was more the feeling of betrayal by his friend than it was the movie itself, as McGregor essentially had the role until Boyle decided to give it to the American superstar instead. DiCaprio had entered a new level of fame thanks to his role in "Titanic," which Boyle claimed was the driving force behind his decision. "You think you're moving up, it's the illusion that you think you're moving up, therefore you're going to need a bigger star to sell the movie," Boyle revealed on "The Jonathan Ross Show" in 2013. McGregor and Boyle didn't speak for nearly ten years but eventually mended fences, joining forces again in 2017 for "T2 Trainspotting."
He lost his voice before his Moulin Rouge! audition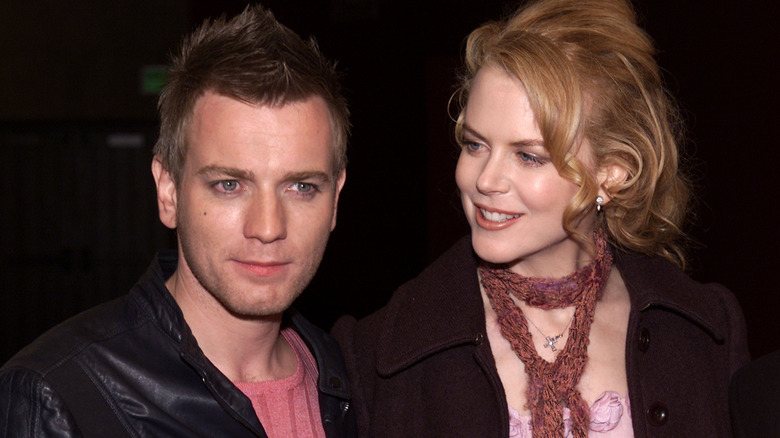 Die-hard Ewan McGregor fans will certainly remember his exceptional performance as Christian in the 2001 Baz Luhrmann musical, "Moulin Rouge!" The role required the actor to sing at a level that he wasn't quite used to. "I had never sung like I was expected to sing for 'Moulin Rouge,' where the singing was a part of the storytelling and not just part of the character," he told MTV. "I've only ever sung as a character ... where if my singing wasn't very good, it didn't matter."
Adding to the intimidation was the fact that McGregor's voice was completely burnt out when it came time to audition for the role. "I was a drinker and a smoker and I was doing this huge play, you know, eight times a week, and [I had] totally wrecked my throat," he recalled in an interview with GQ. "...My voice was shot to pieces." Still, McGregor sang a U2 song for the audition and passed with flying colors.
Apparently, McGregor had previously auditioned for Luhrmann's "Romeo + Juliet" years earlier, and while he didn't get the part (had he once again lost out to Leonardo DiCaprio?) the director remembered him. "He saw whatever it is he wanted to see," McGregor explained humbly to the outlet.
He was unsure about playing a Star Wars icon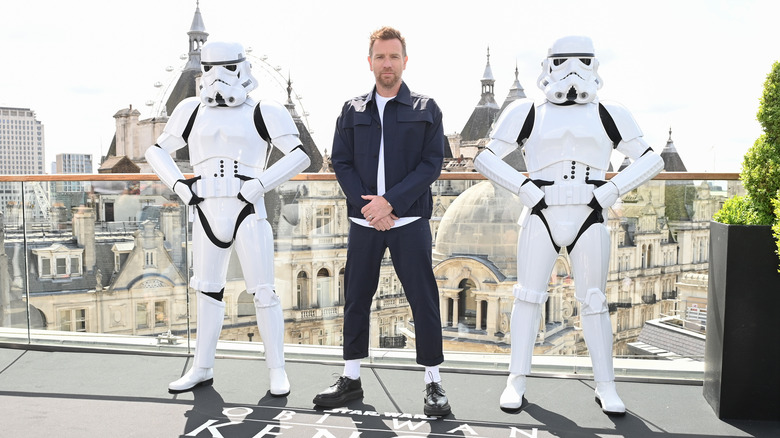 For many fans, Ewan McGregor is synonymous with the role of Obi-Wan Kenobi in the "Star Wars" prequels. But it was a role the star initially couldn't see himself playing. "'Star Wars" didn't really feel right to me," he told Entertainment Weekly. "Initially I was quite skeptical about doing it. I just thought, 'Well, I'm this independent, urban-y, grungy actor over here. I'm not this kind of guy.'"
McGregor's misgivings are a bit ironic, as it was a "Star Wars" actor who got him interested in acting when he was just 5 years old. In fact, his own uncle, actor Denis Lawson, played the starfighter pilot, Wedge Antilles, in the famous franchise. Speaking to Today, McGregor stated that he's always looked up to his uncle. He recalled being dazzled by Lawson's getup when he visited the young boy's small town where he lived looking like a hippie chic movie star wearing beads and a leather waistcoat. "[I was] like, 'Who is this guy? I wanna be this guy!" he told the show.
To the delight of fans everywhere, McGregor reprised his younger take on the classic "Star Wars" character for the Disney+ miniseries, "Obi-Wan Kenobi" in 2022 — and long gone were his trepidations about embodying the iconic role. "I really hope we do another," he told GQ. "If I could do one of these every now and again — I'd just be happy about it."
He's played dual roles in three different projects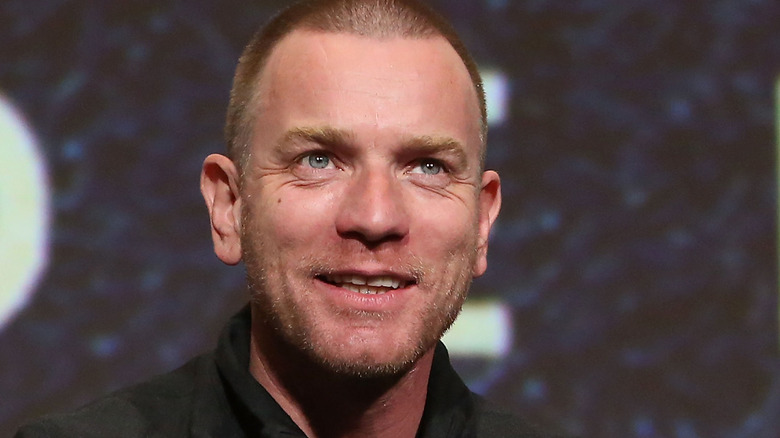 In 2017, Ewan McGregor starred in Season 3 of "Fargo," playing brothers Emmit and Ray Stussy. But this was not the first time the actor played dual roles in a project. Twelve years earlier, he played both Lincoln Six Echo and Tom Lincoln in the Michael Bay sci-fi thriller, "The Island." In 2012, he then played both Jesus and the devil in "Last Days in the Desert."
During an appearance on "Jimmy Kimmel Live," he explained that the trick to playing two characters is to do so in a way that the audience never thinks to acknowledge that both performances are coming from one actor. Comparing his previous dual performances with his "Fargo" roles, he elaborated on the additional challenges of his acclaimed performance, stating, "In this case, I'm playing these two brothers and I've got more to do [opposite] myself in this series than in either of those two films."
McGregor rose to that challenge in "Fargo," but it took more than just great acting. Once again, he had to transform his physical appearance, gaining weight and shaving his head so he could more easily fit into the two characters' different wigs. He even wore prosthetic makeup to give the illusion of a wider nose and neck. Still, it was worth the effort, as his performance received great critical acclaim, including an Emmy nomination and a Golden Globe win.
Ewan McGregor has struggled with accents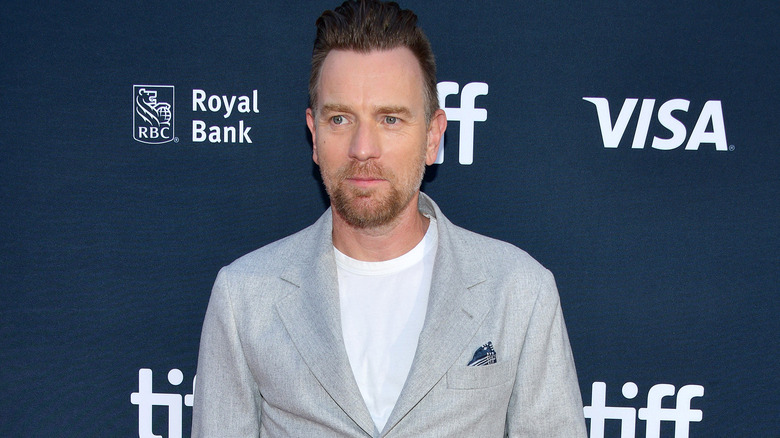 Ewan McGregor grew up in the Scottish town of Crieff, about an hour outside of Glasgow. While the actor's thick Scottish accent has faded a bit over the years, it comes back easily when called upon for a film role. For his performance in "Salmon Fishing in the Yemen," he was encouraged by his costar, Emily Blunt to give his character more of a posh brogue from a specific area of Edinburgh. "I just couldn't decide between English or a Morningside accent, which is so uptight, it's perfect for him," McGregor said, per Independent.
But the actor has had a harder time with certain regional American accents, particularly the very distinct Minnesota accent he had to master for his dual roles in "Fargo." "It's a very strange accent to lock into, as a non-American. It's the hardest accent I've ever done, and I've done Dutch once. This is worse," he admitted, per E! News
McGregor also faced a challenge when voicing Lumiere in the 2017 adaptation of "Beauty and the Beast." As he explained at the Edinburgh International Film Festival in 2015, he initially thought the French accent would come easy, given that his wife at the time was French and their kids also spoke the language. But when it came to performing, he thought his attempt sounded more like Mexican. "I was going 'S***, I can't do it.' And I could see them behind the glass [of the recording studio] going, 'S***, he can't do it!" McGregor joked.
His motorcycle trips around the world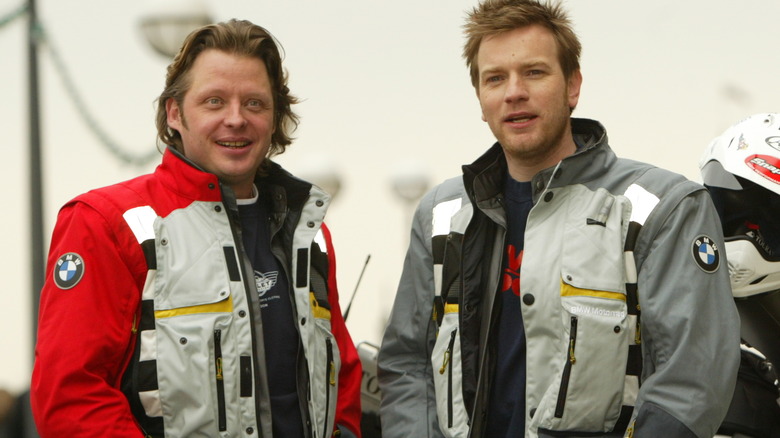 Although Ewan McGregor's talents may lie in performance, acting is not his only passion. The "Halston" star is also an avid motorcyclist — so much so that he's been on three global journeys on his bike, as of this writing. The actor and his buddy, Charley Boorman have embarked on these trips as a duo, and filmed their adventures for three different docuseries.
2004's "Long Way Round," 2007's "Long Way Down," and 2020's "Long Way Up" followed the friends on three separate journeys covering ground throughout the U.S., Europe, East Asia, South, and Central America, and Africa. "[We wanted] for the television series merely to be an account of the trip and nothing more, not to ... ramp things up for the TV audience," McGregor said in an interview. The first two trips were also documented in books co-authored by McGregor and followed the same creative ethos.
Clearly, motorcycling is a huge part of the actor's life outside of Hollywood. Aside from his world travels, he rides as a regular form of transportation, and his collection of vintage motorbikes is enviable, to say the least. McGregor owns everything from Harleys to Moto Guzzis to BMWs, and he prefers to work on them himself rather than employing a mechanic.
His relationship with Mary Elizabeth Winstead caused friction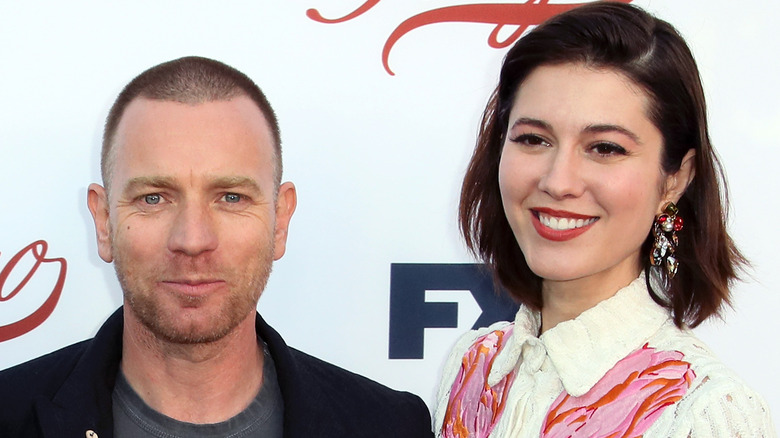 When Ewan McGregor starred in Season 3 of "Fargo" he not only won a Golden Globe, he also met his second wife. On the show, Mary Elizabeth Winstead played the love interest of one of his characters, Ray Stussy, and their chemistry was evident from the start. The only problem was that Ewan was still married to his wife of 22 years, Eve Mavrakis.
When he and Winstead were spotted getting cozy in a London restaurant in October 2017, it caused a stir. According to Us Weekly, Ewan's oldest daughter, Clara McGregor, was furious with the development and didn't hold back her feelings in a now-deleted comment on an Instagram pic of Winstead, reportedly writing, "The girl is a piece of trash." Mavrakis, who shares four children with the Scottish actor, also addressed the rumors in an Instagram comment, stating simply, "What can I do?" (Via The U.S. Sun).
Ewan filed for divorce in January 2018. That same month, he raised eyebrows when he thanked his soon-to-be-ex in his acceptance speech, stating, "I want to just take a moment and say thank you to Ev who always stood by me for 22 years." It seems he couldn't resist giving his new love a shoutout as well, adding, "... And there would have been no Ray without Mary Elizabeth Winstead." The new couple welcomed their first child together in June 2021 and were married a year later.
He's learned a lot from his four daughters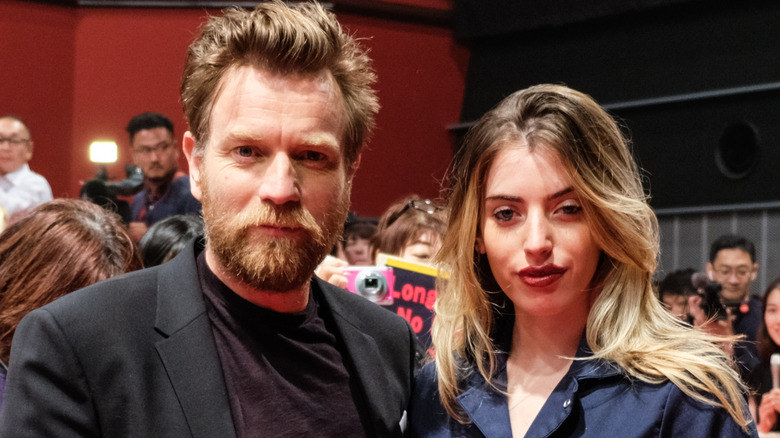 The role that Ewan McGregor is perhaps the proudest of is that of a loving father to his five children. The actor's son, Laurie, with Mary Elizabeth Winstead, was born in 2021, but McGregor spent quite a long time before that as a girl dad. He shares four daughters, Clara, Esther, Jamyan, and Anouk, with his ex-wife, Eve Mavrakis.
Being a father to four girls may have given McGregor some perspective when it comes to women's issues. In a 2020 interview with Today, the actor discussed his role as the villainous Roman Sionis in the DC flick, "Birds of Prey," and how the film reflected upon various forms of sexism and gendered violence against women. "We have horrible moments [of misogyny] in this film, but we also have this sort of general, mundane, everyday misogyny that women have to put up with," he stated. "... We're learning all the time, men, we've got a lot of catching up to do."
McGregor went on to highlight the importance of female-driven narratives, citing his daughters as a good reason to want to see changes made. "I've got four girls myself [and] I'm lucky to be working in an industry where we're aware of how things were and how things need to be," he explained.
How Ewan became Halston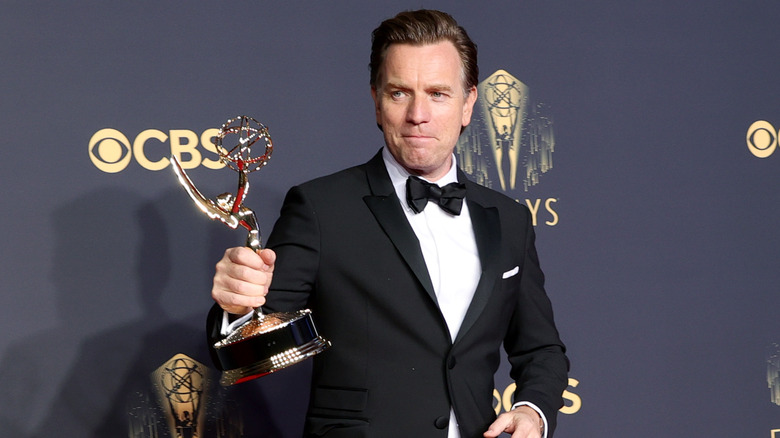 In 2021, Ewan McGregor won his first Emmy Award for his performance in Ryan Murphy's Netflix miniseries, "Halston." Playing the titular role of the iconic American designer, Roy Halston Frowick, McGregor did his research to get into character, even learning how to drape fabric. "I just was worried that if my hands didn't look like they knew what they were doing, it would sort of give me away," he explained in an interview with CBS Sunday Morning. "So, I would practice and practice and practice and prick myself and try not to prick the person I was draping."
McGregor became so lost in the role that he found himself feeling at times as though he really was Halston. "There were just little moments where I felt like, 'Oh, that was him,'" he told The New York Times. "There was, like, a little curse, an eye roll or something where I felt that was it." It seems as though he had audiences convinced as well, particularly those who knew the designer personally. McGregor's performance got the seal of approval from the late, great fashion maven and Vogue's editor-at-large, André Leon Talley. "That Scottish man pulled it off," he told The New York Times. Describing how McGregor managed to nail all the particulars of Halston's idiosyncratic manner and gestures, he added, "... I cried."
The special role that helped mend his family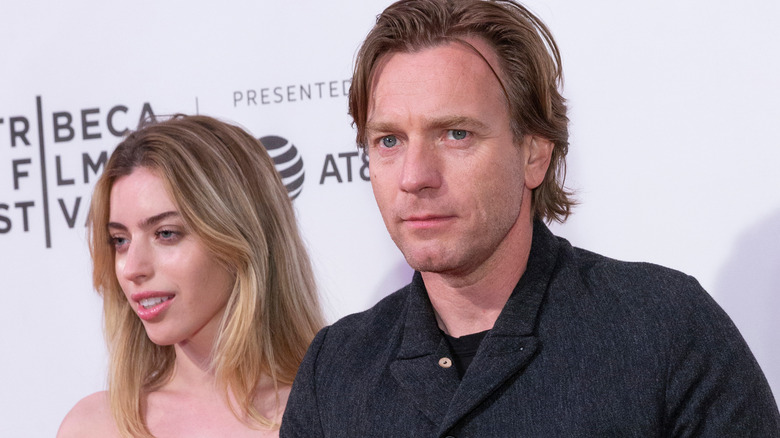 When Ewan McGregor split from his first wife, it put a strain on his relationships with his children. His daughter, Clara McGregor took it especially hard, publicly shading her father as well as his now-wife, Mary Elizabeth Winstead. The model later apologized but there was still tension, which McGregor acknowledged in an interview with GQ, proclaiming, "A divorce in a family is a bomb going off in everyone's life — my children's lives."
So, when Clara approached her father with a screenplay she'd developed, it seemed like an opportunity to mend the relationship. The film, "You Sing Loud, I Sing Louder," is a fictionalized story based on their relationship. "She tells me that she'd come up with an idea about writing about us. At first, I was a bit nervous. I didn't know what that meant," Ewan told GQ. He elaborated that he was ultimately won over by the quality of his daughter's writing and that the overall process of making the film helped to repair their bond.
Clara has since posted cute throwback pics of her and her dad on Instagram, as well as a sweet photo of her holding her half-brother, Laurie – Ewan's child with Winstead. As of November 2022, the film, which also stars the father and daughter, was in post-production. Between his prolific career, his motorcycling adventures, and a now happy family, it would appear that the beloved actor has it all figured out.