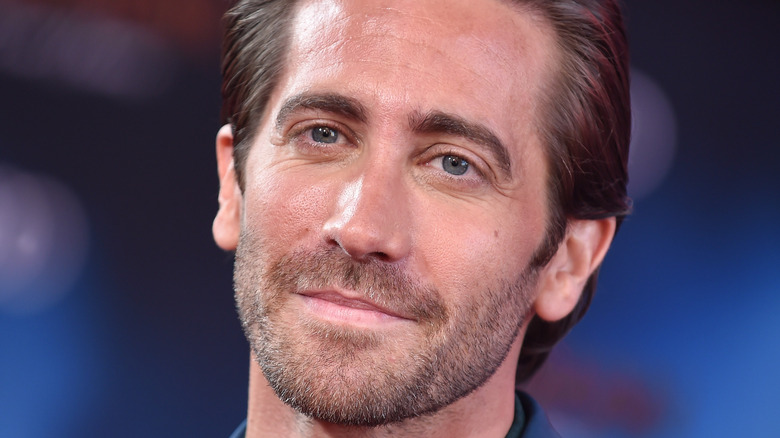 Not to state the obvious here, but Jake Gyllenhaal is a huge celebrity — the kind that three generations of your family are likely to have heard of, even if they're not big pop culture mavens. The actor's filmography is so all-encompassing that, whatever genre you tend towards, he's definitely been in some of your favorite movies. He's done it all: an action-movie prince in "Prince of Persia," a lover in "Brokeback Mountain" and "Love & Other Drugs, a troubled teenager in "Donnie Darko," an amateur videographer in "Nightcrawler," a supervillain in "Spider-Man," a music video star for Jay-Z and Beyoncé, and even a comedian on "Saturday Night Live."
When it comes to his personal life, the actor isn't necessarily gracing the cover of gossip magazines on the daily — although a certain Taylor Swift did propel Gyllenhaal into more than his fair share of headlines when she released "Red (Taylor's Version)." That said, he's also not exactly a private person — and he has given many an interviewer a candid glimpse into what it's like to be Jake Gyllenhaal, from his quintessentially Hollywood childhood all the way to his life as it stands. We've sifted through Gyllenhaal's juiciest revelations, and we're bringing you the low-down on what you definitely didn't know about the actor. Grab the popcorn; it's gonna be a wild ride.
Jake Gyllenhaal has noble ancestors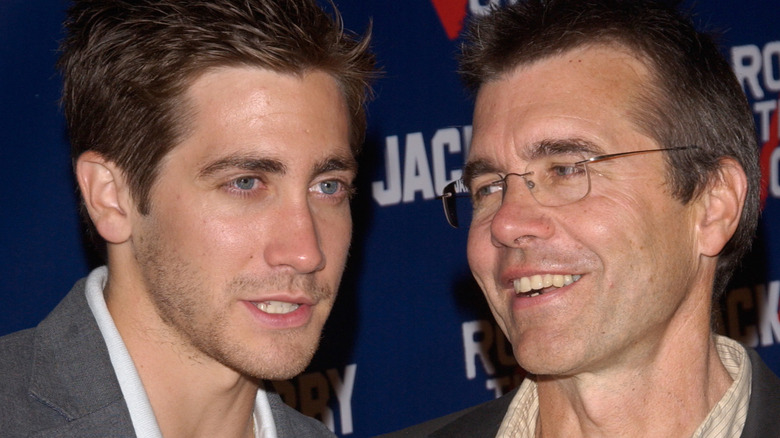 Jake Gyllenhaal is Hollywood royalty — in his own right, of course, but also because he is the son of two prominent filmmakers, producer and screenwriter Naomi Foner and director Stephen Gyllenhaal, and the little brother of equally famous actor Maggie Gyllenhaal. Jake also grew up surrounded by some of Hollywood's brightest talents. "Home was like a circus, with writers and filmmakers coming in and out," he told The Guardian in 2011. "We had a room above the garage rented by Steven Soderbergh — before he was Steven Soderbergh."
But it's not just a cinema dynasty Jake Gyllenhaal was born into: If you've ever wondered about the last name, it comes from a long line of Swedish nobility, of whom Jake is a descendant, as reported by the Times of Israel. The Gyllenhaal family can be traced back to 1652 Sweden, when Nils Haal was ennobled and given the name Gyllenhaal, according to Academic Dictionaries and Encyclopedias. Who knew?
Jake Gyllenhaal wasn't allowed to film this 1992 movie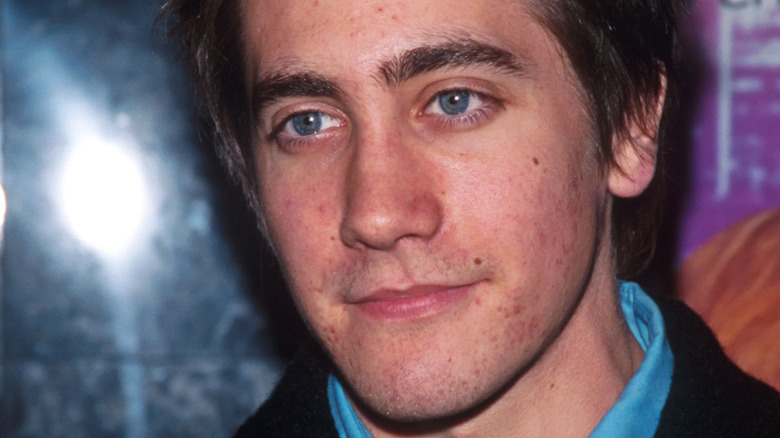 With his two parents so heavily involved in cinema when he was growing up, it should come as no surprise that a young Jake Gyllenhaal wanted in on the action. Although he did have a few acting jobs as a kid, his parents curbed his enthusiasm a little in order to allow their son to have a more normal life. One stark example of their philosophy is the time they stopped Gyllenhaal from appearing in the 1992 movie "The Mighty Ducks," because he would have had to be filming from two months away from home (and school, presumably), according to The Guardian.
But that was far from the only time Gyllenhaal missed out on work he really wanted to do. "When I was growing up also, in high school, I would audition for things and my parents let me audition for things – with the thought that I wouldn't get them," he told IGN in 2004. "And then I would get them...sometimes, and it would surprise them. Not that they didn't think I could. (Laughs) When I did, it was like they told me I couldn't do it." Although he resented his parents at the time, over the years Gyllenhaal came to understand why they had made the decisions they did, and was thankful for it.
Theater helped young Jake Gyllenhaal find confidence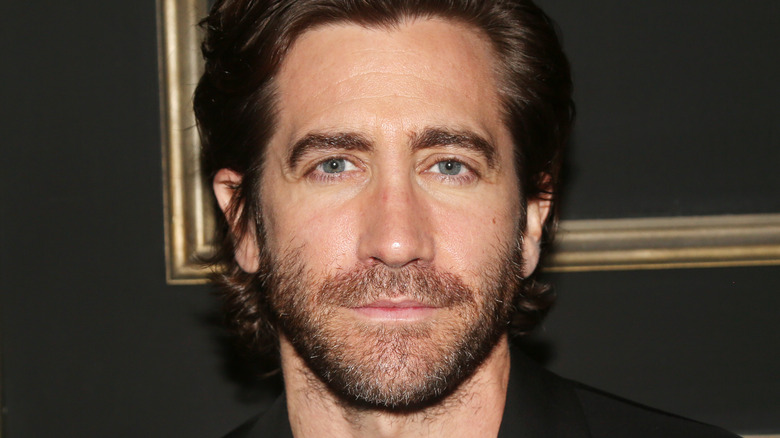 Although you would never guess it from looking at his stellar career, international superstar Jake Gyllenhaal lacked confidence as a young boy. And even though you know him for his acting chops, he is also a skilled singer.
Asked by W Magazine when he sang on a stage for the first time, Gyllenhaal answered, "I played the Scarecrow in The Wizard of Oz when I was 10 years old." Reflecting on the experience, he said, "And [I remember] feeling confident in that space. As a kid, I was so insecure. But when I got up onstage, which is such an odd place to feel confident, it felt like an expression. It brought me so much joy." It was a kind of joy like he'd never known before, and he never looked back.
Since then, Gyllenhaal has found glory on stages around the world, including London's West End. In 2002, he took the stage in the play "This Is Our Youth" by Kenneth Lonergan and received an Evening Standard Theatre Award for his performance. "I had no idea what I was getting into, which was a wonderful thing," he told the Evening Standard in 2019. "What I found when I performed here 18 years ago was this incredible, supportive community of artists." The actor tried to come back, to appear in a rendition of "Sunday in the Park With George," but — scheduled for summer 2020 — the play was postponed indefinitely, according to London Theatre.
Jake Gyllenhaal had a nontraditional bar mitzvah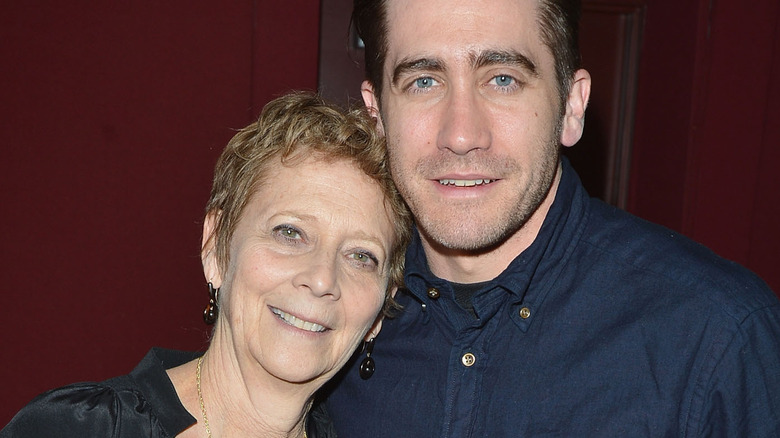 Jake Gyllenhaal is proud of his Jewish heritage, but he was never particularly practicing. That's why, when he celebrated his bar mitzvah at 13 years old, he didn't do it in the traditional way by a long stretch — but it was important to him and his family that they keep the spirit of the faith to mark the occasion. "On my 13th birthday, they thought it was important for me to experience a rite of passage, an entrance into manhood, and the consensus was that we would do something for the good of the community, some charitable work — a bar mitzvah-like act, without the typical trappings," the actor told The Guardian in 2011. "So we went to a homeless shelter and we did some work there and then I had the party — the celebration — there."
This bar mitzvah was in keeping with the role Judaism had played in Gyllenhaal's family. His mother, Naomi Foner Gyllenhaal, told the Jewish Journal in 2005 that she saw herself as "culturally Jewish," that she fully owned her Jewish roots, but that she wanted to make up her own mind about the purely religious aspect of it all. "I remember standing up during my confirmation ceremony and saying I didn't believe in God," she said. "But I also associated Judaism with an intellectual tradition and acts of social justice."
Jake Gyllenhaal took regular-kid jobs in high school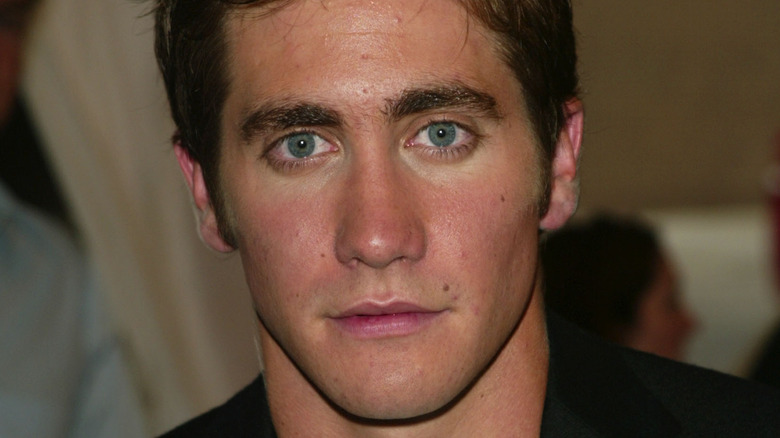 Jake Gyllenhaal was a child actor who appeared in "City Slickers" alongside Billy Crystal at the age of 11, and "A Dangerous Woman," directed by his father, among a handful of other credits. But he could probably have become a household name by the age of 18 if his parents had allowed it; instead, they tried to give him a regular childhood as much as they could, starting with encouraging him to earn his own money through other avenues than acting.
Asked by IGN what sort of typical teenage jobs he landed as a boy, Gyllenhaal said, "I was a lifeguard for three summers in a row. For two summers, I was simultaneously a lifeguard and a bus boy at a restaurant. So I'd work from 7am and then I'd get off at 5pm. And then I'd go to the restaurant and work from 5pm to midnight. I thought that was fun...I don't really know why now. But I had a really great time doing that." That definitely doesn't sound like the most fun ever, but we're glad he enjoyed it.
Jake Gyllenhaal has a famous godparent and godchild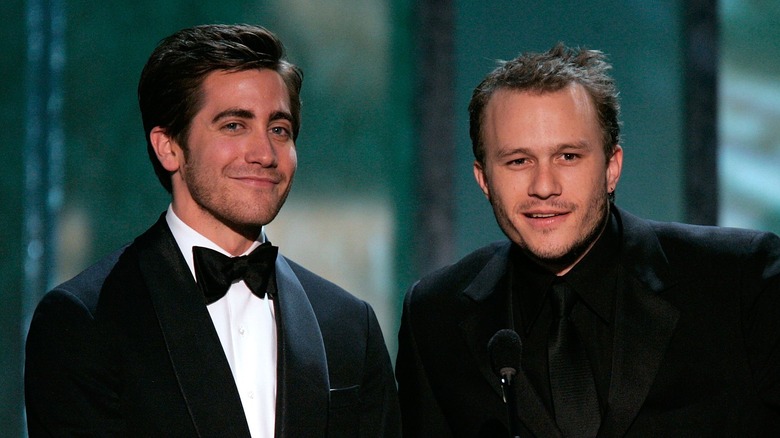 Jake Gyllenhaal's godmother is someone you definitely know about: fellow actor Jamie Lee Curtis. On a 2021 episode of the "Rachael Ray Show," the scream queen shared that she happens to be godmother to both Jake and Maggie Gyllenhaal. And then, she did a little promotion for her godson. "I don't know if you guys have been able to see Jake's movie, 'The Guilty,' it's on Netflix right now," she said. "It's an intense movie that Jake produced and stars in. He is spectacular in the movie, and the entire movie was shot in 11 days during COVID." What's more, according to The Guardian, he counts Paul Newman and Dustin Hoffman as mentors.
Jake is also a godparent to a famous kid. After he and "Brokeback Mountain" co-star Heath Ledger formed a bond while filming the movie, Ledger and his then partner (and fellow "Brokeback Mountain" actor) Michelle Williams asked Jake to be the godfather to their daughter, Matilda. Ledger and Williams broke up in 2007, shortly before the "Dark Knight" actor's untimely death in 2008.
Jake Gyllenhaal dropped out of Columbia University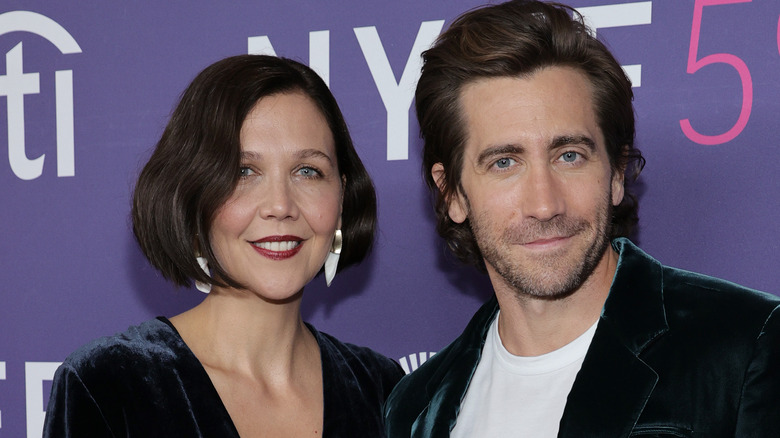 The Gyllenhaals are Columbia Lions through and through. Naomi Foner, mom to Jake and Maggie Gyllenhaal, attended the New York City school for a masters in psychology, according to The New York Times. And as noted in Alumni Spotlight, Maggie studied English literature and Eastern religions there. Fun fact, Jake's older sister also had Uma Thurman's dad as a professor at Columbia.
Jake followed in his mom and sister's footsteps half-heartedly. His casting in the 1999 movie "October Sky" coincided with the time his family expected him to go off to college. His dad, Stephen Gyllenhaal, reminded him that he wanted his only son to have a higher education. "I was like, 'Yeah, yeah, I am' — I never thought the [acting] temptation would be so strong," Jake told The Guardian in 2005. He shipped off to New York City to attend the prestigious Ivy League, but only made it two years before leaving to concentrate on acting.
It took years for Donnie Darko to become a success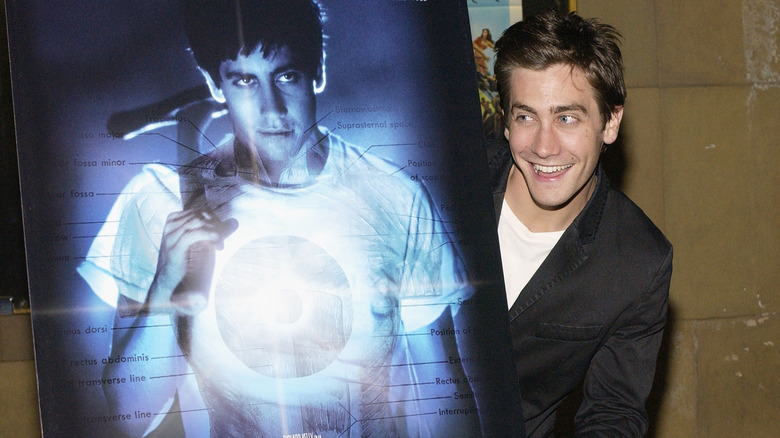 If you were asked to name three Jake Gyllenhaal movies off the top of your head today, chances are you'd include "Donnie Darko" in the mix. It was only his sixth movie, and was one of his big early successes — but it didn't actually start off that way. The film, which dates back to 2001, was essentially a flop at first. It "almost went straight to home video," according to USA Today. It did get a theater run, but was far from a box office hit. Then, when "Donnie Darko" came out on DVD, the mega-fandom began. "It's the unique vision of the director, and it's clear that the movie resonated with fans," a Fox Home Entertainment representative told USA Today in 2005, in an effort to explain why the film was attracting more and more fans years after it was released. "It has rewatchability. It became the perfect little DVD movie."
While some actors may look back at features they made early on in their career and wince, Gyllenhaal gets why "Donnie Darko" has become a cult classic. "I think 'Donnie Darko,' to me, is one of my favorite movies I've made and one I'm most proud of," he told People in 2016. "It does sort of define not the way I look at the world literally, but there are a lot of things in there I believe about the world."
Jake Gyllenhaal was almost cast as Spider-Man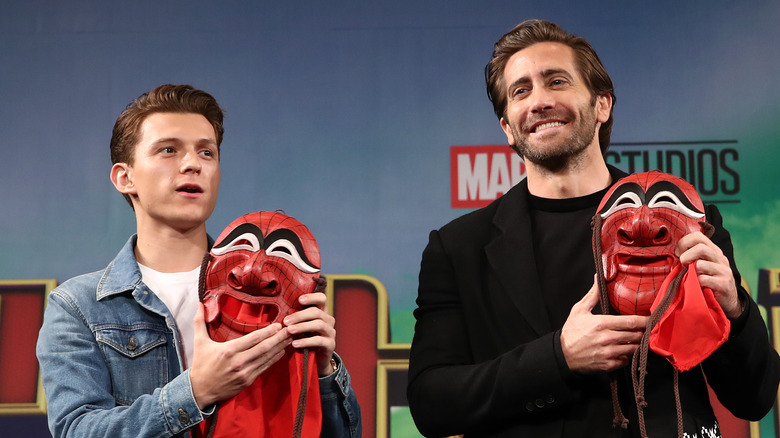 It probably won't be news to you that Jake Gyllenhaal plays villain Quentin Beck, AKA Mysterio, in "Spider-Man: Far From Home." But what will probably come as news to you is that long before he acted opposite Tom Holland's Spider-Man, there was a point when Jake could have actually played the superhero himself. The original Spidey, Tobey Maguire, hurt his back ahead of filming "Spider-Man 2," and as The Hollywood Reporter recounted years later, rumors began swirling that the "Donnie Darko" actor could take his place. Thankfully for Maguire, he knew that this was off the table. "​​We were pretty close to production, so I think things got blown out of proportion," he told IGN in 2003. "We were three weeks out and we were making sure, or you could say questioning, whether I was able to do it. After I did the tests [to make sure he could safely perform stunts], we all felt good about it and off we went."
But Spider-Man is not the only legendary superhero Jake never got to play. In 2003, a new Batman had yet to be cast, and Jake was reportedly being considered, according to People. In the end, Christian Bale landed the prized job, going on to star in "Batman Begins," "The Dark Knight," and "The Dark Knight Rises." Jake's sister, Maggie Gyllenhaal, wound up in Christopher Nolan's trilogy when she replaced Katie Holmes as Rachel Dawes.
Jake and Maggie Gyllenhaal once escaped a fire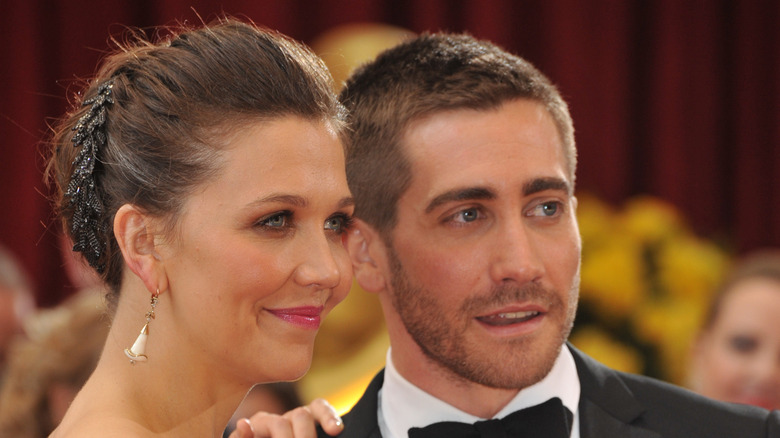 In December 2006, Jake Gyllenhaal and his sister Maggie Gyllenhaal had to escape Manka's Inverness Lodge, a high-end lodge in Northern California, in the middle of the night, when a fire began to spread. "Jake was helping me pull things out of the fire," one of the lodge's owners, Daniel DeLong, told The Hollywood Reporter at the time. The hero they all needed.
The brother and sister duo have a solid bond, which is a wonderful feat — especially for a pair of siblings who grew up surrounded by the pressures of show business. "I am inherently a little brother — that's just my nature," Jake admitted to the Guardian in 2011. "It has to do with my sister being very strong and wanting to protect me. It's the natural order of things. That's the way my sister feels about me in every aspect of my life — my work, my relationships. Women have to pass her test. That's very hard for girlfriends. But I love that about Maggie." That is very sweet and we are so glad that any sibling quibbling they do is done with love.
Jake Gyllenhaal is picky with his acting roles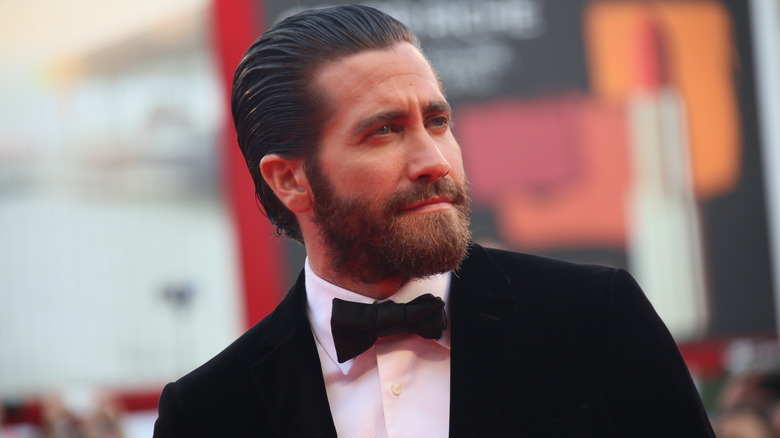 If you look at Jake Gyllenhaal's filmography, you'll notice that beyond your "Spider-Man" and your "Brokeback Mountain," there aren't many blockbusters to his name, which is surprising for a film star of his caliber. But it's not a coincidence that Gyllenhaal isn't in just about every movie you can think of: He likes to pick and choose his projects as much as he possibly can.
Above all, Gyllenhaal won't be pigeonholed. "One of the most important things to me is risk," the actor told The Jewish Chronicle in 2017. "I think a lot of people try to stay within some sort of comfort zone and it's never something that I feel comfortable with, be that subject matter or be that choice in character." And diversity in subject matter is far from Gyllenhaal's only criterion for deciding to take on a project or not: The script really has to make him feel something for him to want to put his name to it. "When I read a script, I want it to feel new, like you've never seen it before," he added.
Jake Gyllenhaal's parents divorced when he was an adult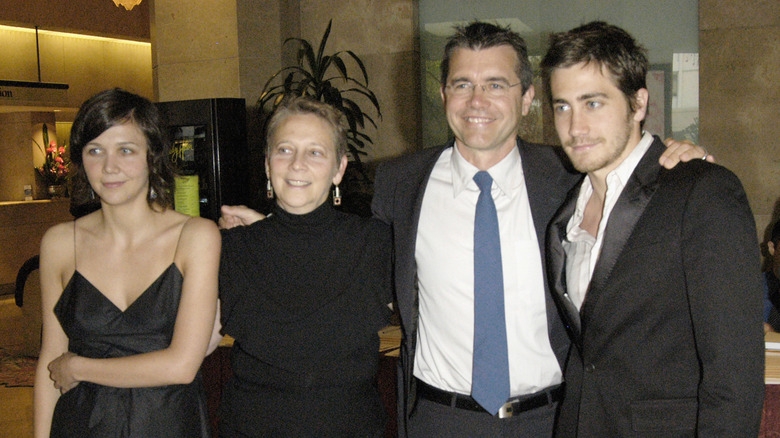 Stephen Gyllenhaal and Naomi Foner, Jake Gyllenhaal's parents, divorced some 30 years after they tied the knot. In the years leading up to the finalization of the divorce, things got pretty messy between them — especially financially. "During our marriage, our expenses tended to outpace our income. Accordingly, we accumulated a certain amount of debt," Foner said in court documents obtained by TMZ at the time (via Express). "I have repeatedly asked Stephen to pay his one-half share of our bills, and he has refused to do so."
Once the divorce actually came through, though, Jake shared a certain sense of relief, or perhaps admiration. "It allowed me to be more honest with myself," the actor told People in 2015. "There was a sense of two people who said 'What is our truth?' It was painful for a lot of people in our family, but that honesty was inspiring." Jake echoed that sentiment in his 2017 interview with The Jewish Chronicle, which he gave while promoting "Okja" in Cannes. "When people express their truth, I think it allows other people to do that. And when, after many years, they made that decision ... it allowed me, I think, to do the same thing." This can't have been an easy time for the actor, but we love how philosophical he was able to be about it all after the fact.
Jake Gyllenhaal has a star-studded dating history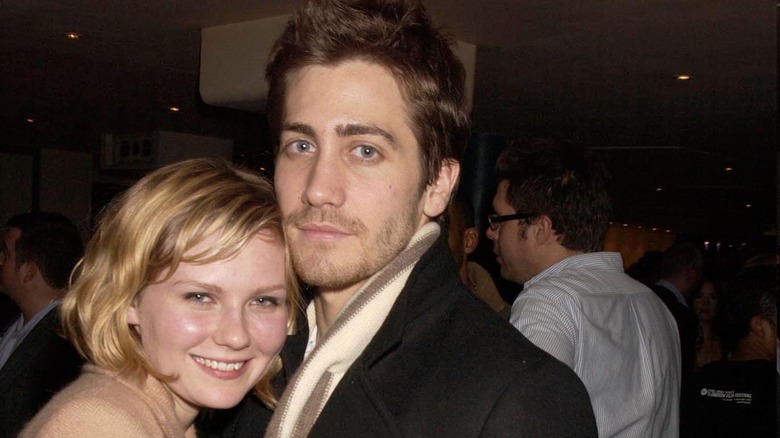 Unless you never missed an issue of People magazine circa the mid-2000s, there's a good chance you don't remember who Jake Gyllenhaal dated back then — and yet, it's pretty darn juicy. First among the super-famous personalities the actor was linked to at the time was "Virgin Suicides" star Kirsten Dunst. The two dated between 2002 and 2004, all thanks to Dunst's "Mona Lisa Smile" co-star Maggie Gyllenhaal. A spokesman for Dunst told USA Today, "They remain very close still and are the best of friends."
Next up is equally ultra-famous star Reese Witherspoon. First, Witherspoon and Jake Gyllenhaal were seen "cuddling" in a "playful" way in April 2007, per People. Then, just like that, a source confirmed to People in June of that same year that their romance was over. "They just recently broke up," they said. "It's totally and completely over." And somehow, sometime during their short relationship, they allegedly had sex in an airplane bathroom. Okay, then.
You'll probably be able to guess the next star on the list. Some might say we know the story all too well. Before Taylor Swift released a bunch of songs painting a pretty dire picture of Gyllenhaal, the two were an item, doing normal-couple things like going out for brunch. But the breakup wasn't pretty, apparently: "Jake just told her it wasn't working out," a source told Us Weekly. "Taylor is really upset and hurt. She feels really burned by him." These days, Gyllenhaal is totally devoted to girlfriend Jeanne Cadieu, a French model he has been dating since 2018.
Jake Gyllenhaal has studied Buddhism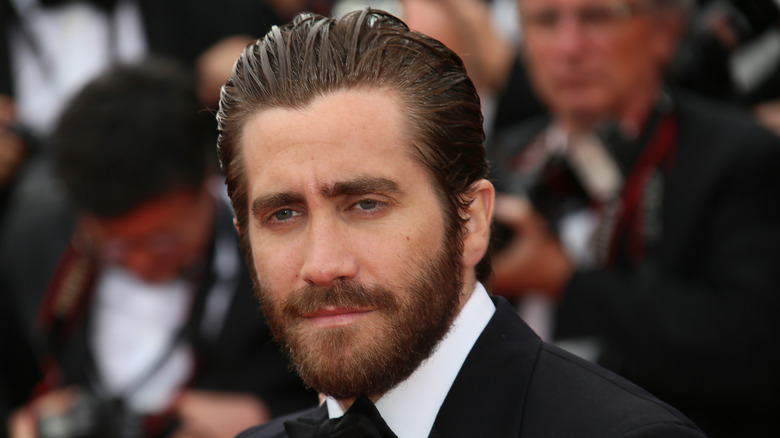 Though Jake Gyllenhaal has one Jewish parent and one Christian parent, he has found himself fascinated by Buddhism at various points in his life. "Both of my kids studied with (Buddhist scholar) Robert Thurman at Columbia University and I think they've both been drawn to that," Jake and Maggie's mom, Naomi Foner, told Contact Music in 2005. "I think they're both very spiritual beings. Both have a real awareness of what's going on around them."
The "Wildlife" actor himself called his collegiate Buddhist education "the closest I could find to a course in abstract thinking," he told The Guardian in 2016. Explaining in his own words why the religion and its precepts spoke to him, he said, "I am a big proponent of continuous self-reflection." After a pause, he added, "I don't mean to be too lofty." We'll let this one pass.
The time Gyllenhaal spent as an undergrad at Columbia was necessarily time he wasn't spending on movie sets, which was presumably his preferred mode of expression. "I was searching for an outlet for creativity, and particularly Eastern religion and Eastern thinking and the idea of Buddhism and Tibetan culture felt interesting to me," he explained to South China Morning Post in 2019.
Jake Gyllenhaal has earned a pretty penny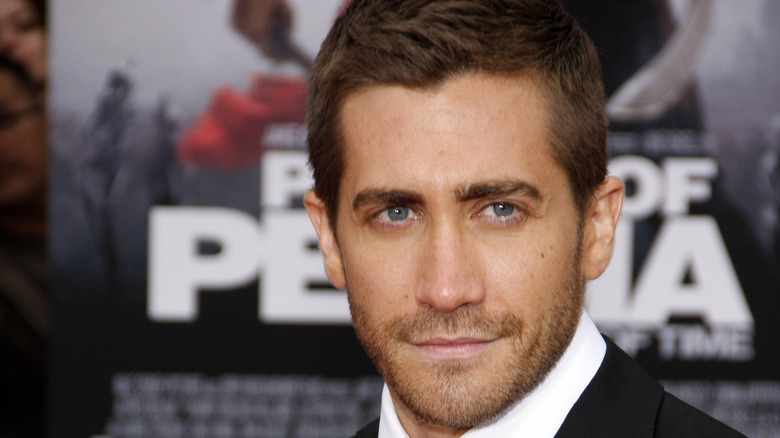 Jake Gyllenhaal is one of the most famous actors on the planet not for nothing. The star's net worth is estimated at a very nice $80 million, according to Celebrity Net Worth. Though he has four soundtrack and two camera and electrical department (???) credits on IMDb, the bulk of Gyllenhaal's work — and therefore his income — involves acting and producing.
He has acted in movies you're very familiar with — think "Donnie Darko," "Brokeback Mountain," "Zodiac," "Prince of Persia," or "Love & Other Drugs" — and also a bunch you might never have heard of (but should check out): "Moonlight Mile," "Wildlife," "Velvet Buzzsaw," "Okja," "The Guilty." Gyllenhaal has worked as a producer on no fewer than 19 projects, too, including "Nightcrawler," "Nocturnal Animals," and "Enemy." Not a bad resume. Not bad at all.
In his spare time, Gyllenhaal lends his efforts to various charity causes, such as New Eyes, which provides eyeglasses to people in need, and the Actors Fund, which helps out New York theater workers who lost work to COVID. What a guy.