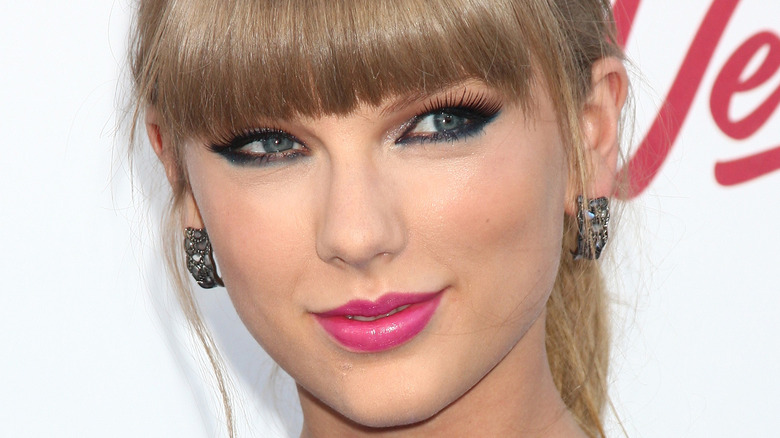 When Taylor Swift released her re-recorded album, "Red (Taylor's Version)," in November 2021, conversation picked up once again about several songs that fans have long felt were about some of her ex-boyfriends. "I wonder if there are people who might think that they were the one you were singing about — if it's easier or far, far worse for them 10 years later," host Seth Meyers asked the singer-songwriter on "Late Night." Swift's response? "I haven't thought about their experience, to be honest." Ouch. Meyers commented what everyone else was thinking: "I think that's the biggest burn."
While appearing on "Jules, Merrick & Sophie" back in 2014, Swift admitted that she does write songs about her past relationships, but noted, "I have a really strict personal policy that I never name names." This, of course, only added to those fan conspiracy theories, but as Swift added, "Anybody saying that a song is about a specific person is purely speculating." The Grammy winner also had strong words for any critic who thought she "just writes songs about her ex-boyfriends," saying, "I think frankly that's a very sexist angle to take," before explaining that several male artists like Ed Sheeran and Bruno Mars also write "songs about their exes, their current girlfriends, their love life, and no one raises a red flag there."
From famous celeb couplings to unrequited crushes to teenage romances, this is every song Taylor Swift wrote about the men in her life explained.
Taylor Swift had a boy band problem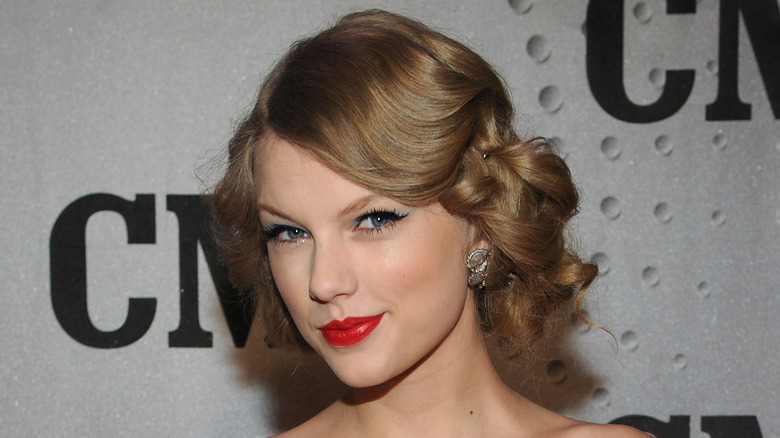 Taylor Swift's first famous boyfriend was fellow musician Joe Jonas. Though she initially denied this, per The New York Times, the duo dated between July and October in 2008, and their short-lived relationship inspired more than one song.
Appearing on "The Ellen DeGeneres Show" that November, Swift revealed that the admittedly sarcastically titled tune, "Forever & Always," from her sophomore effort, "Fearless," was inspired by her breakup with Jonas. However, she also confessed, "That guy's not in my life anymore unfortunately," before claiming that he "broke up with me over the phone in 25 seconds when I was 18." Explaining to People that the song was "about watching somebody completely fade away in a relationship and wondering what you did wrong," Swift even referenced it in the liner notes off her next album for "Last Kiss," which Genius surmised is most likely about Jonas. Also off of "Speak Now," the song "Better than Revenge" is speculated to be about actor Camilla Belle, aka this JoBro's next girlfriend. Per Genius, Swift wrote in the lyrics, "She underestimated just who she was stealing from."
In the liner notes for 2012's "Red," Swift revealed a hidden message in "Holy Ground": "When you came to the show in SD" (via Genius). Jonas was notably spotted at multiple Swift concerts in California years after their split. Over a decade after their breakup, it's been speculated that "Invisible String" off of 2020's "Folklore" and "Mr. Perfectly Fine" from the vault on 2021's "Fearless (Taylor's Version)" are also about Jonas.
Inside the musician's red relationship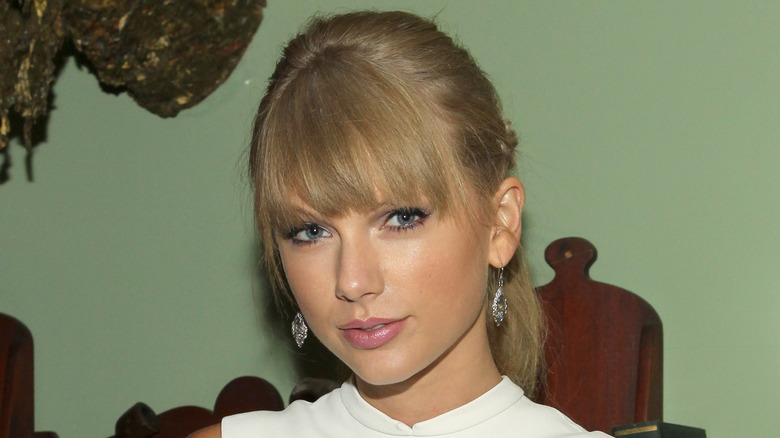 In a 2013 interview with Vulture, Taylor Swift admitted that most of her album, "Red," was about one particular ex-boyfriend. Based on the timing of when she dated actor Jake Gyllenhaal for a few months in late 2010, most people have assumed certain tracks were written about him, including hit singles like "We Are Never Getting Back Together" and fan-favorite ballads like "All Too Well."
While Swift never named names, she told the outlet that this particular guy reached out after listening to the album, allegedly saying, "That was a really bittersweet experience for me. It was like going through a photo album." According to Swift, their relationship was "a love that was wonderful until it was terrible, and both people got hurt from it — but one of those people happened to be a songwriter."
Almost a decade after its original release, "All Too Well" made a searing comeback with both a re-recorded version and a 10-minute version. That latter features lyrics scrapped for the original recording like, "You said if we had been closer in age, maybe it would've been fine / And that made me want to die," which may reference Swift and Gyllenhaal's nine-year age difference, per Genius. This also became the longest song ever — at 10 minutes and 13 seconds — to top the Billboard Hot 100 chart. "I'm so proud of this song and the memories I have with you guys because of it," Swift tweeted in response to the honor. "You truly chose this one."
Into the woods with Taylor Swift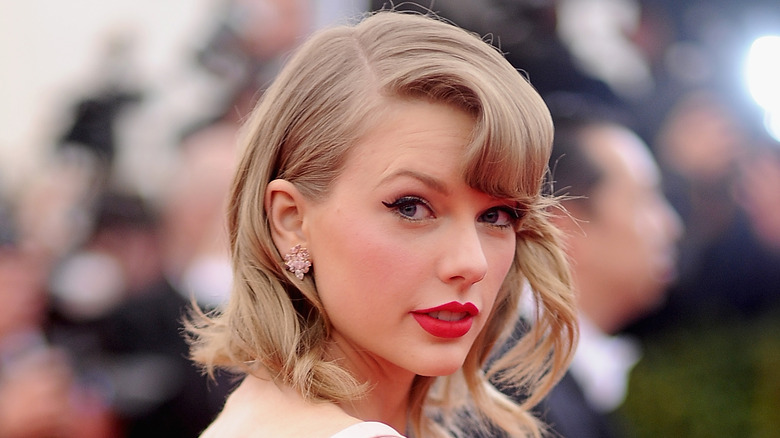 Rolling Stone reports that several songs on Taylor Swift's "1989" album may be about her brief relationship with Harry Styles from late 2012 to early 2013. For "Out of the Woods," for example, Swift teamed up with musician-producer Jack Antonoff to write about a relationship where "every day was a struggle. Forget making plans for life — we were just trying to make it to next week." Perhaps a little more on the nose is "Style." "You got that James Dean daydream look in your eye / And I got that red lip classic thing that you like," Swift croons. At Rolling Stone's suggestion that it's about the Brit, she grinned and said, "We should have just called it 'I'm Not Even Sorry.'"
For his part, One Direction's single "Perfect" — which Styles co-wrote — is thought to be in direct response to "Style," with lyrics like (via Genius), "And if you're looking for someone to write your breakup songs about / Baby, I'm perfect." "Two Ghosts" from his solo debut is also rumored to be about Swift. Calling it "the most amazing unspoken dialogue ever" in Rolling Stone, Styles told Howard Stern that he finds it "flattering," explaining, "Even if the song isn't that flattering, you still spent time on it and ultimately, using Taylor as an example, she's a great songwriter."
Considering the duo made headlines when they were spotted chatting at the 2021 Grammys, who else is hoping for a Haylor duet on "1989 (Taylor's Version)"?
Taylor Swift let a good one go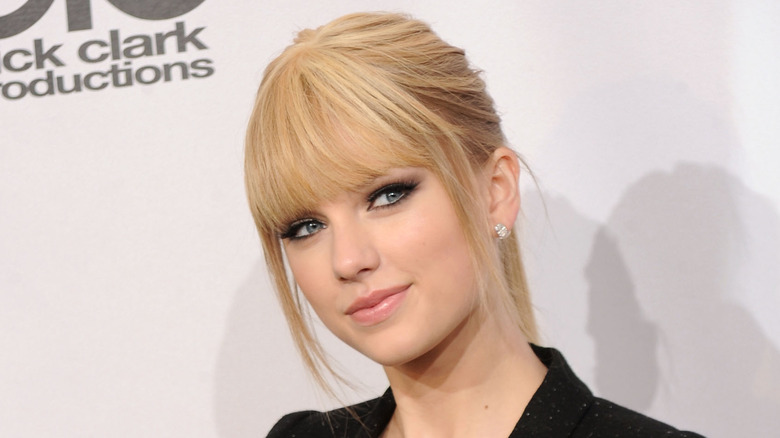 For her first role on the big screen, Taylor Swift appeared in the 2010 romantic comedy, "Valentine's Day," playing Taylor Lautner's on-screen love interest. At the height of his fame for playing werewolf Jacob in the "Twilight" movies, Lautner reportedly started dating Swift in real life once the cameras stopped rolling.
While hosting "Saturday Night Live" in 2009, Lautner addressed the rumors surrounding his relationship with Swift and what it was like being onstage with Swift when Kanye West infamously interrupted her victory speech at the MTV VMAs. However, the romance only lasted for three months and allegedly ended in December 2009 after Lautner flew to Nashville to celebrate Swift's birthday. According to a source cited by Us Weekly, Lautner reportedly "liked her more than she liked him" and "went everywhere he could to see her, but she didn't travel much to see him."
"Back to December" from Swift's 2010 album, "Speak Now," talks about breaking up with an unnamed ex. With lyrics like, "Standing in front of you, saying I'm sorry for that night" (via Genius), she also sings, "I miss your tan skin, your sweet smile." In an interview to promote "Scream Queens," co-star Lea Michele probed Lautner about whether or not Swift wrote a song about him. "That's what she does. She writes songs," Lautner simply said, before finally conceding that the song was called "Back to December."
What her ex should have done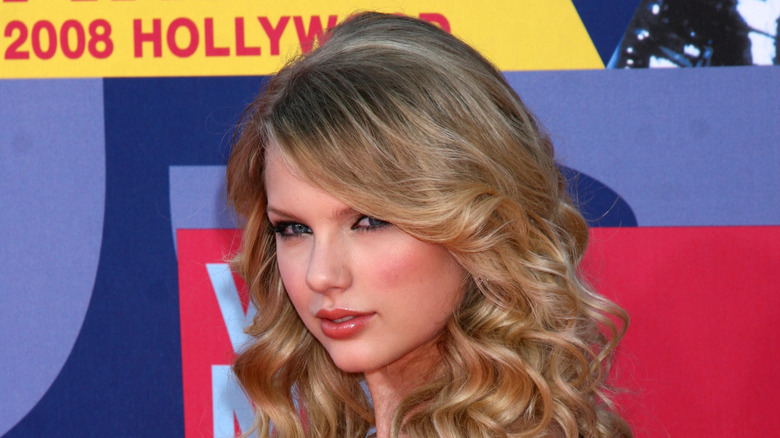 Taylor Swift's self-titled debut album introduced the young singer to the rest of the world in 2006. Just like she would continue to do throughout her career, Swift put details from her life into lyrics. This also included a shout out to men from her past in the liner notes (via Genius): "PS: To all the boys who thought they would be cool and break my heart, guess what? Here are 11 songs written about you. HA."
One standout example from the "Taylor Swift" album is "Should've Said No." According to Genius, the song is "about a former lover of Taylor's who cheated on her," and it was a last-minute addition to the singer-songwriter's acclaimed debut. "You should've known that word / 'Bout what you did with her'd get back to me," read the chorus lyrics in part, with Swift alluding to the fact that if the guy hadn't strayed, "you might still have me." As for the subject of the song, the album's liner notes just said "Sam" six times as the track's hidden message. Fans connected this to a boy named Sam Armstrong. Years later, The Best Social Media recapped a Twitter thread in which Armstrong claimed he dated Swift in high school, but his account has since become private.
Meanwhile, Swift even performed the tune on stage with another one of her exes, Joe Jonas, and his band in the "Jonas Brothers: The 3D Concert Experience" movie.
Taylor Swift burned a few bridges
While Taylor Swift attended Hendersonville High School in Tennessee, she reportedly linked up with her classmate Jordan Alford — before he moved on to another classmate named Chelsea, whom the Daily Mail reported "would later become his wife."
"We were kind of good friends at school, later not so much. She dated him, that's why," Chelsea told the outlet about their teenage years with the music superstar. She went on to claim that Swift and Alford dated as freshmen in high school, and the Grammy winner later wrote about the situation in "Picture to Burn" off of her debut album. According to Chelsea, Swift's bestie at the time, Abigail Anderson, apparently told her that the song was about Alford. While she claimed to not care that her husband was the subject of the song because it was a long time ago, Chelsea still wanted to set the record straight about one particular lyric: "I'm not a redneck! She makes me look like some redneck! But other than that we just thought it was kind of funny."
Chelsea also recalled that, after Swift's debut album dropped, she and other former students tried to decipher all the different lyrics, saying, "We know other people she wrote songs about. That first record was a game, like, 'OK, which one is this about? OK, did they even date?'" Other former classmates have also alleged that the music video for "Picture to Burn" contains several references to Swift and Alford's relationship, per Teen Vogue.
This crush confronted the hitmaker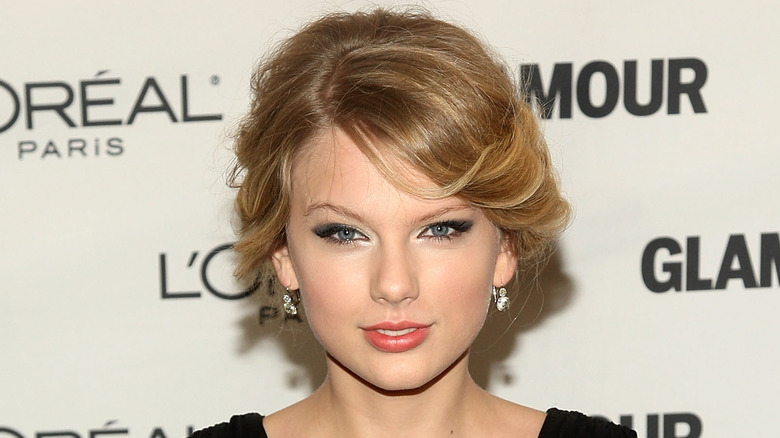 Fans captured an early video of Taylor Swift talking about her single, "Teardrops on My Guitar," in which she explained the song was about a guy she had a crush on named Drew Hardwick, who was already in a relationship. Swift said she was stuck in the friend zone and he would ask her for advice about his girlfriend, like what to buy her for Valentine's Day. In the liner notes for "Taylor Swift," she revealed the hidden message in the song was, "He will never know" (via Genius). But he did find out (we're guessing because of the rare name-drop).
Speaking with The Washington Post, Swift revealed that Hardwick once showed up at her house unannounced with two other guys. Proving how different she was from Hardwick at the time, Swift noted that he visited right before a night out with fellow country star Carrie Underwood. According to Swift, he said, "Hey, how's it going?' And I'm like: 'Wow, you're late? Good to see you?' But we were civilized." In her opinion, Hardwick supposedly showed up "to prove to people that the song really is about him or whatever." She also mused about her former crush, "Maybe he was really trying to be friends. Or maybe he thought I was still pining away from him. Whatever!"
While things only got better for Swift after the song dropped, her former crush's life unfortunately went in the opposite direction. As reported by the Tennessean, Hardwick and two others were charged with child abuse in 2015.
A forbidden romance for Taylor Swift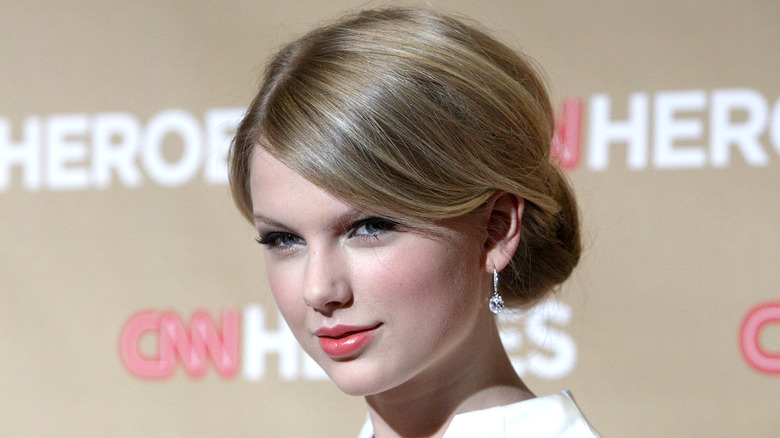 Thanks to TikTok, Taylor Swift's song "Love Story" received a second life in 2020 as a viral hit on the social media platform, Rolling Stone reported. But the resurgence may have been a painful reminder for the tune's alleged subject. According to Genius, the track may have been about her exes Joe Jonas or Martin Johnson — Swift reported dated the latter, who was the lead singer of the band Boys Like Girls, back in 2008.
As reported by Radar, Johnson apparently had a crush on Swift after the two worked together on the song "Two is Better than One." But people close to Swift allegedly told her a relationship would be a bad idea. A source claimed that Swift was also "head over heels for Martin, but her team didn't really feel that he was a good influence on her or her image." As a result, Swift was reportedly "pretty much forced to end things," with the insider adding, "She sort of broke his heart." The same source alluded to warning flags that her team may have seen. Around that time, Johnson was reportedly "battling some personal demons."
Another song that may be about Martin is "White Horse," which is also off of "Fearless." Swift told Billboard that the ballad was about being optimistic for the future with a special someone, noting that "then there is that moment where you realize that it is not going to happen." According to Vulture, "Breathe" and "If this was a Movie" are also rumored to be about the alleged connection between Swift and Johnson.
She wrote a lyrical letter to her ex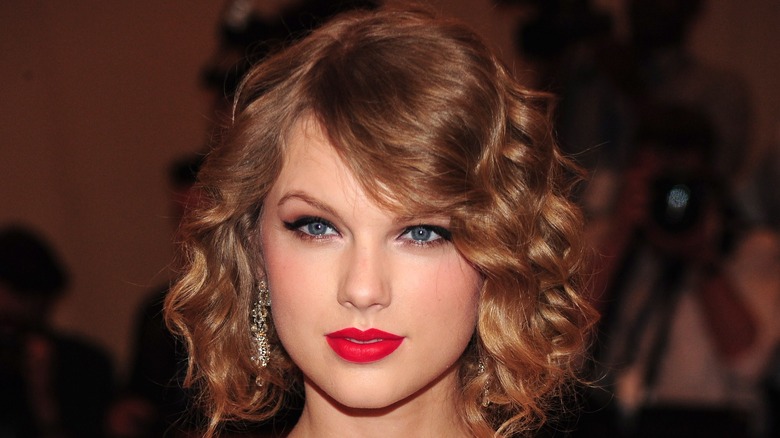 In 2010, Taylor Swift appeared as the featured guest on John Mayer's song "Half of My Heart." Later that same year, Swift released her third album, "Speak Now," which featured the highlight track "Dear John." The lyrics talk about a relationship with an older man (via Genius): "Don't you think I was too young to be messed with?" Besides the song title, fans were quick to note that Swift was likely talking about her brief relationship with Mayer. Though she never admitted Mayer was the subject of "Dear John," Swift told Yahoo! Music Blogs, "Everyone will know, so I don't really have to send out emails on this one."
In response to the song, Mayer told Rolling Stone he was "really humiliated," adding that he felt terrible after hearing the lyrics, partly because he felt he "never did anything to deserve that." In his mind, Swift releasing the song "was a really lousy thing for her to do." Hm. While "Dear John" quickly became a fan favorite and went on to become a regular part of her live shows, Mayer allegedly responded with his own song called "Paper Doll." Vanity Fair shared photos of various outfits worn by Swift over the years, which Mayer may have referenced in the song. Plus, his most direct lyric, "You're like 22 girls in one," came after Swift released her hit single, "22."
Later, after running into Mayer at the 2010 CMT Music Awards, Swift reportedly wrote "The Story of Us" about the elder musician, according to Genius.
The Taylor Swift song about a nice guy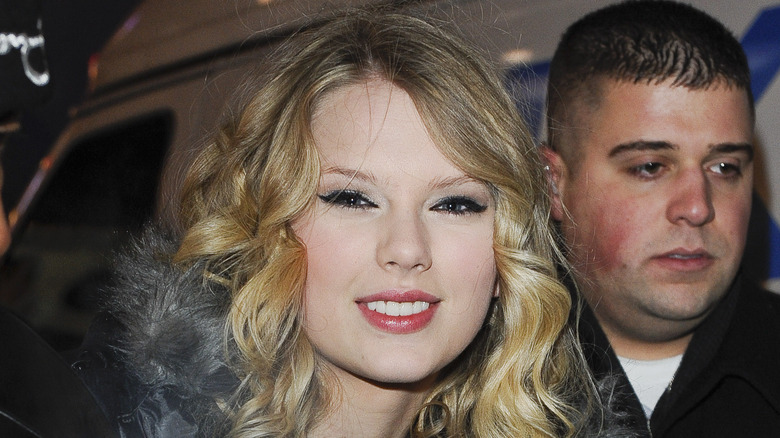 While she was touring in 2008, Taylor Swift caught feelings for her one partner on the road, which she detailed in "Hey Stephen" from her second album, "Fearless." Telling Access Hollywood that "the song is actually about a guy who I had a crush on and never told him," she added, "So I wrote everything that I was thinking down in the song instead of telling him."
The person in question was likely Stephen Barker Liles, who was in the band Love and Theft that opened her shows. In the album's liner notes, Swift wrote that the hidden message to "Hey Stephen" was "Love and Theft," per Genius. In an interview with The Boot, Liles claimed that he first heard about the song from Swift herself, admitting, "She doesn't really write very many nice songs about guys. So I was very relieved when it turned out to be a nice song, and it's actually one of the nicest things anybody's ever done for me."
Liles also confirmed that Swift was upfront with him about the song and told Access Hollywood that "she invited us to go with her at midnight to pick up the record ... and listen to the track." Later, Liles responded to Swift with his own song called "Try to Make It Anyway." In the lyrics, per Genius, he alludes to Swift with lines like, "The curly hair and the cowboy boots / How could anyone get over you?"
Another high school love for Taylor Swift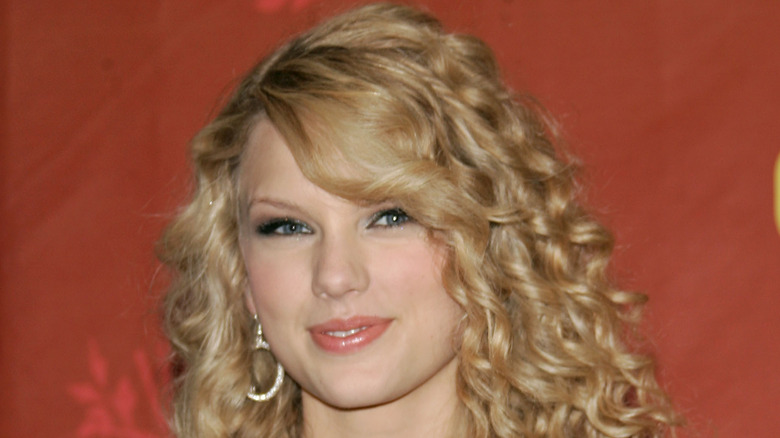 As detailed by The Washington Post, a young Taylor Swift came up with the foundation for her debut single "Tim McGraw" in 2005. At the time, she worked with songwriter Liz Rose once a week to write songs together. "I had this idea in math class today," Swift reportedly said to Rose, noting that she wanted to write a song "about her boyfriend who was going off to college, and how she hoped he would think of her every time he heard a Tim McGraw ballad." According to her debut album's liner notes, Swift later revealed that the specific McGraw song was "Can't Tell Me Nothin'" (via Genius). Additionally, the lyrics site noted that Swift's song was reportedly about her experience dating senior Drew Dunlap, while a fan on Rare Taylor Swift posted a photo of Dunlap and referred to him as "Taylor's first boyfriend."
Based on this timeline, "Our Song" is also likely about Dunlap. Swift told The Boot that she wrote the rocking tune in ninth grade for her school's talent show. "At that time, I was dating a guy, and we didn't have a song," she explained. "So I went ahead and wrote us one." Her classmates reportedly loved the song, and so did fans once she recorded the track, which became Swift's first No. 1 single on the Billboard Hot Country Songs chart.
Though "Fifteen" is mainly about Swift's relationship with her friend Abigail Anderson, the lyrics hint at Swift's first date with a senior, per Genius.
This singer-songwriter went from online to offline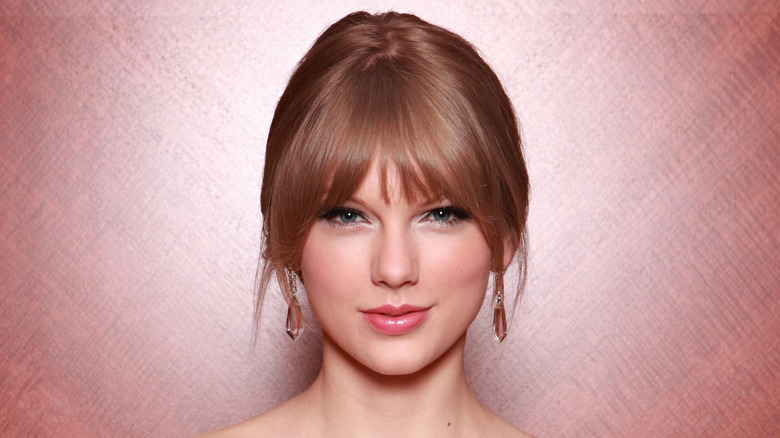 Around the release of "Speak Now," Yahoo! Music Blogs pieced together the clues in Taylor Swift's song "Enchanted," starting with the hidden message, "Adam," in the album's liner notes. Swift also explained that she used the word "wonderstruck" in the song lyrics deliberately, which pointed to Adam Young. Swift once had a crush on the singer, better known for his stage name Owl City. She also happened to attend one of his concerts at the Bowery Ballroom in Manhattan.
"It was about this guy that I met in New York City, and I had talked to him on email before, but I had never met him. And meeting him, it was just this overwhelming feeling of: I really hope that you're not in love with somebody," Swift said about the lyrics. She explained that, on her way home from that first meeting, she remembered "sitting there thinking, am I ever gonna talk to this person again?" Swift recalled having a "feeling of pining away for a romance that may never even happen, but all you have is this hope that it could, and the fear that it never will."
For his part, Young wrote in a blog post that he was "honored" Swift wrote a song about him, per BuzzFeed. The Owl City singer added that after listening to the record, "I was lost for words and utterly smitten. I couldn't stop smiling." In response, he released a cover version of "Enchanted" on Valentine's Day in 2011, per Genius.
All about Taylor Swift's famous family ties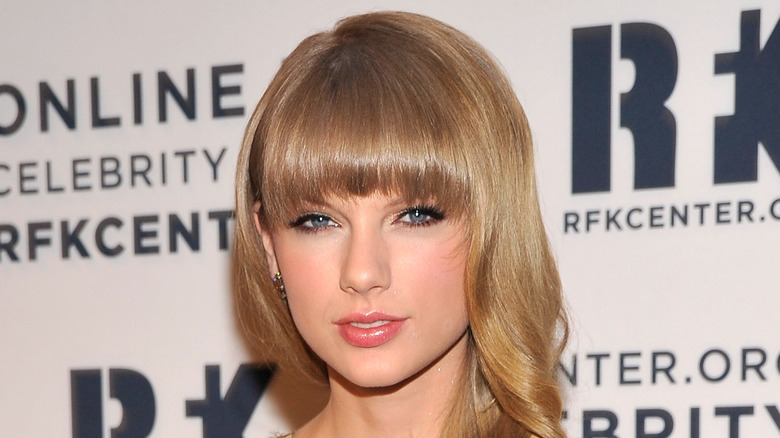 The song "Starlight" from Taylor Swift's album "Red" is about her affection with the Kennedy family. According to Genius, she explained that a photo of young Ethel and Bobby Kennedy in the 1940s inspired her to write "about what the night might've been like," and the artist later had the chance to meet Ethel, who invited Swift to join a Fourth of July celebration at the Kennedy compound. During the gathering, Swift reportedly met Conor Kennedy, the son of Robert F. Kennedy Jr. As detailed in "The Kennedy Heir" by J. Randy Taraborrelli (via InStyle), she and Conor then briefly dated. This supposedly included a drama-filled incident where Conor and Swift allegedly crashed his cousin's wedding, which the singer-songwriter's team denied.
Swift even bought a house in Cape Cod when she was rumored to be with Conor. As reported by People, she paid nearly $5 million for a 13-room home in Hyannis Port, Massachusetts, which was located "across the street from Conor's grandmother Ethel." Hyannis Port is also the hidden message in the liner notes for the song "Everything Has Changed," per Genius.
As Swift explained to Ryan Seacrest (via CBS News), the closer on her album, "Begin Again," is about "when you've gotten through a really bad relationship and you finally dust yourself off." This 2012 interview lined up with Swift's relationship with Jake Gyllenhaal ending and the start of her rumored relationship with Conor. According to "The Kennedy Heir," Conor ended the romance with Swift after two months together.
One wild year for Taylor Swift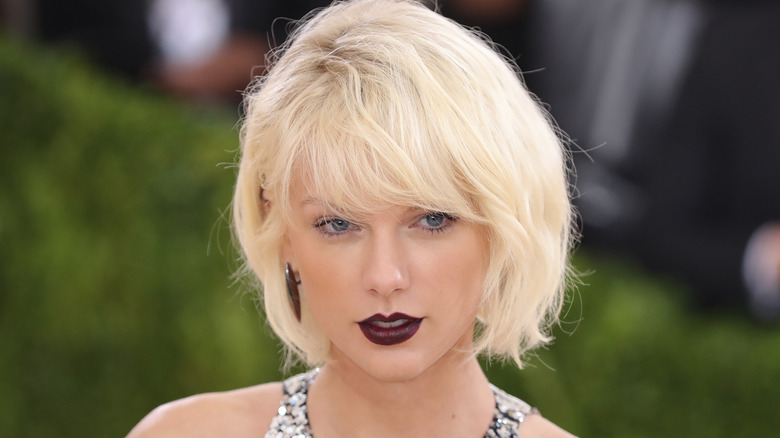 During "Taymerica" — one of Taylor Swift's epic Fourth of July parties held at her house in Rhode Island — the singer hosted famous guests like Blake Lively and Ryan Reynolds. She was also spotted holding hands with British actor Tom Hiddleston, a source cited by People claimed. The rumor that the two were dating only became stronger when Hiddleston wore a tank top that said "I [heart] T.S." The romance may have started at the 2016 Met Gala in New York, when the pair were seen dancing together. Swift was dating Calvin Harris at the time, but their relationship ended the following month, People reported.
Sadly, Hiddleswift split up after three months together as an official couple, and Swift seemingly wrote about these back-to-back romances in her song "Getaway Car" from her album "Reputation." Per Genius, Swift's lyrics reportedly "[liken] her rebound relationship with Tom Hiddleston to a 'getaway car' ride used to get away from a crime scene, or her failed relationship with Calvin Harris." Meanwhile, the music video for "Look What You Made Me Do" features a callback to her former actor beau: In one scene, a bunch of dancers are all wearing shirts that read, "I [heart] TS."
Years later, Swift wrote the song "Long Story Short" for her 2020 album, "evermore," which is about her public ups-and-downs. According to Genius, the following lyrics, "Clung to the nearest lips / Long story short, it was the wrong guy," are likely about Swift quickly linking up with Hiddleston after Harris.
Taylor Swift's tragic connection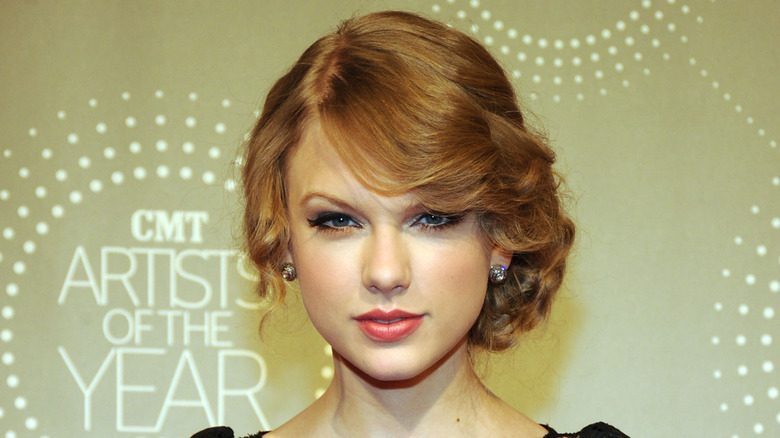 In the midst of her rumored romances with Taylor Lautner and John Mayer in 2010, Swift was also connected to "Glee" star Cory Monteith. As reported by MTV News, he supposedly took Swift on an "intimate date" and the pair were spotted "looking cozy on Saturday night at a pre-Grammy." Soon after, Swift and Monteith both went bowling with Selena Gomez, per PopSugar.
"Mine" marked the first track and first single off of Swift's album "Speak Now." The song is about a "shorter-lived crush," which Yahoo! Music Blogs suggested may have been about Monteith, as it was hard to tell whether he and Swift were just friends or more. For her part, Swift explained the lyrics came from "a situation where a guy that I just barely knew put his arm around me by the water, and I saw the entire relationship flash before my eyes." The singer added, "After I wrote the song, things sort of fell apart, as things so often do." But she noted how after a few months of no communication between the two, he emailed her on the day she released "Mine." Swift said of the song, "The fact that it came across so clearly to that guy that he would email me meant that I had been direct enough."
Sadly, Monteith died in July 2013. In response to the news, Swift wrote in a since-deleted tweet (via Taste of Country), "Speechless. And for the worst reason." In yet another tragic connection, the late Naya Rivera performed "Mine" on "Glee" in 2012.